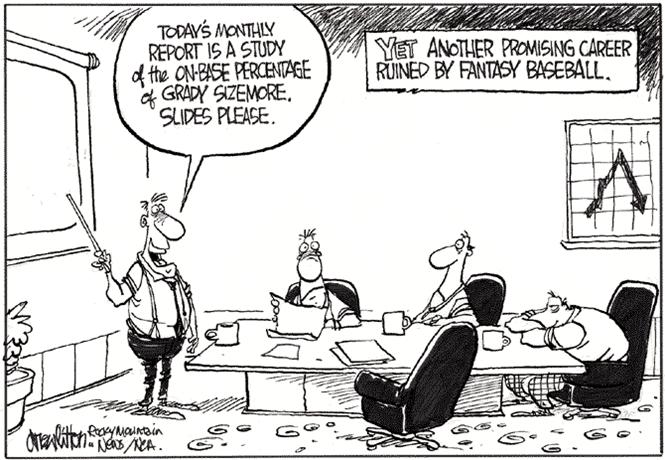 The RAB Fantasy Baseball League drafted Saturday night, but not before we hit a bit of a snafu with the keeper settings, so unfortunately we had to push the draft back a week. A few people backed out, and we went from a 20 team league to a 14 team league. Next year we're going to have to go back to Yahoo, because ESPN was a bit frustrating, especially the actual draft software.
My strategy last year was to load up on hitters early, and not take any pitchers until my last nine picks because they tend to get hurt and are just more unpredictable in general. It didn't go so well, so I scrapped that strategy all together and went back to my traditional routine of mixing pitchers in as I go. I still grabbed hitters with my first four picks, but after that I targeted some young arms with upside potential.
We have twelve stat categories, six for hitters (R, HR, RBI, SB, AVG, OBP) and six for pitchers (W, HD+SV, K, ERA, WHIP, QS). Holds + Saves instead of straight saves adds a little more flexibility to league (plus it's something different), and I took advantage of it by hording top set-up men with my last few picks. After all, what's the point in wasting a fourth or fifth round pick on a guy like K-Rod or Joe Nathan when Scott Downs or Russ Springer could give you similar stats sixteen rounds later?
The first round went Hanley, Pujols, Wright, Reyes, Braun, Rollins, Sizemore, Miggy, Utley, Tex, Lincecum, Chipper, Johan, Howard. Here's the squad I drafted (round/overall pick):
C: Russell Martin (4/51)
1B: Derrek Lee (6/79)
2B: Brian Roberts (3/34)
SS: Jimmy Rollins (1/6)
3B: Aubrey Huff (8/107)
OF: Brad Hawpe (9/118)
OF: Conor Jackson (10/135)
OF: JD Drew (13/174)
UTIL: Jack Cust (14/191)
SP: Felix Hernandez (5/62)
SP: Zack Greinke (7/90)
RP: Jason Motte (18/247)
RP: Ryan Madson  (20/275)
P: Josh Johnson (11/146)
P: Gil Meche (15/202)
P: Jered Weaver (16/219)
BN: Alex Rodriguez (2/23)
BN: Mike Aviles (12/163)
BN: Ryan Spilborghs (21/286)
BN: Chris Volstad (17/230)
BN: Jose Arredondo (19/258)
BN: Scot Shields (22/303)
Obviously I took A-Rod with an eye more towards the second half. We have eight DL spots, so I'll just slide him over and grab a player out of the free agent pool as needed once the season starts. Huff is my third baseman for the time being, and if he puts up numbers anywhere close to what he did last year, I'll be golden. He, Jackson and Aviles are eligible at multiple positions, so I have some flexibility. Most days I'll start all four relievers, unless of course I have more than three starters scheduled to pitch that day. I'd like to have someone better than Ryan Spilborghs as my JD Drew insurance, but hopefully Drew can stick it out until A-Rod comes back. I'm happy, I think I can do some damage with this team.
Anywho, here's your open thread for the night. The Nets are home against the Bucks, the Knicks are in Utah, and the Devils and Rangers will face-off in the Garden. You've also got new episodes of House and 24 on FOX, which is probably where I'll be. Talk about whatever you like here, just be nice to each other.
Oh, and don't forget to vote in this week's Fan Confidence Poll if you haven't already. Thanks.
Photo Credit: Waiting for Next Year