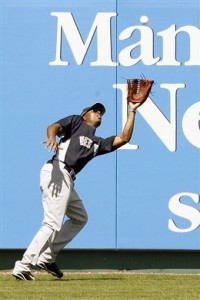 The Yankees have played three games in the last twenty hours or so, meaning we haven't had much time to recap all the action. Last night's game against the Red Sox was a forgettable one, as the only regulars in the lineup were Brett Gardner and Xavier Nady, and even those two are fighting for starting jobs. Chien-Ming Wang made his third start of the preseason and didn't fare to well, giving up seven runs (only one earned) and six hits in 1.2 innings, victimized by Juan Miranda throwing the ball into center field as he tried to turn a 3-6-3 double play. Both Mike Lowell and David Ortiz took the Wanger deep, Ortiz's being a uber-clutch two run job in the second inning with his team leading by five.
Other than that, not all that much happened in that game. Brett Tomko threw 3.1 strong innings while Kei Igawa chipped in another scoreless frame. Xavier Nady doubled while Cody Ransom tripled, and Angel Berroa picked up two hits to raise his spring batting avg to .444. Boston won 8-4.
AJ Burnett flashed his greatness in today's game, twirling four perfect innings on just 40 pitches. He was so efficient that he had throw an extra ten pitches in the bullpen. The fastball was an effortless 94-96, and the curve was dropping in for strikes at the knees. I know it's just March, but Burnett had no-hit stuff today, and even a lineup of All-Stars wouldn't have touched him. Johnny Damon hit a first inning solo homer before the Yanks tacked on two unearned runs in the fourth. Cody Ransom picked up another two hits, he's been really impressive since A-Rod went down. Edwar Ramirez made his spring debut, and although he struggled to locate his fastball he still pitched an effective frame. Jason Johnson picked up the save in his debut, nailing down the 3-1 win.
As Burnett was carving up the Astros, Phil Hughes had his first rough out of the spring an hour south against the Pirates. He gave up first inning solo homers to Nate McLouth and Adam LaRoche, and finished the day with two hits and three walks allowed in 3 IP. He said afterward that he was working on his changeup, but overall he just didn't have it today. Mark Melancon also had his first bad outing, allowing seven baserunners (six hits, one walk) and five runs in just two-thirds of an inning. It was bound to happen sometime, but as Ben noted in an email, this probably guarantees he'll be in Triple-A Scranton to start the year.
The offense was highlighted by the Yanks' two best prospects, as both Austin Jackson (pictured) and Jesus Montero knocked a ball out of the park. Montero's shot was a salami, and he now has two career Spring Training homers to his credit, both grand slams. Mark Teixeira struck out in all three of his at-bats, so he clearly can't handle the pressure of New York and is a bust. Doug Bernier drew three walks, Nick Swisher just one (today). The Yanks swept today's split-squad action with a 13-10 win.
Andy Pettitte will take to the mound for the second time this spring tomorrow, when the Twinkies come to Tampa. Otherwise here's your open thread for the night. The only local team in action tonight is the Devils, who are up in Montreal. Marty Brodeur has a chance to tie Patrick Roy's NHL record 551 wins tonight, and me thinks it has to happen just because of all the stars lining up (Roy will be in the house, he played for Montreal, etc.). Talk about whatever your heart desires, just be nice.
Photo Credit: Keith Srakocic, AP