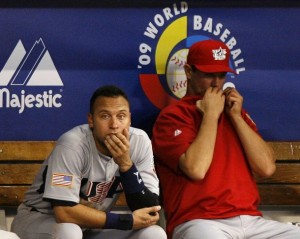 Team USA has their backs against the proverbial walls in the WBC tonight, facing elimination after being mercy ruled by Puerto Rico last night. Their opponent: those gutty, gritty, pesky, playing the game the right way Netherlandians. I'm sure you remember that this is the same Netherlands team that send the Dominican Republic home with their tail between their piernas.
Roy Oswalt gets the ball in the elimination game, and of the four starters on the team, he's the one I feel most comfortable with in a win or go home situation. Team mascot Dustin Pedroia is officially out of the tournament with an oblique strain and has been replaced by the Orioles' Brian Roberts. It looks like the Netherlands is sending Marlins' farmhand Rick VandenHurk to mound since staff ace Sidney Ponson (hah) threw yesterday. VandenHurk was the World Team's starter in the 2007 Futures Game, and has a 6.96 ERA in 95.2 big league innings.
ESPN2 is carrying the game; first pitch is scheduled for 7:30. Chat about that, or anything else on your mind here. Oh, I also want to mention that Chase Utley is making his spring debut tonight, less than four months after having the same surgery to repair a torn hip labrum that A-Rod will eventually have. I guess that's a good sign. Anyway, enjoy the game.
Update (7:49pm): If you're bored on this somewhat lame feeling Sunday night, Brian Foley at The College Baseball Blog is going to be chatting at 9pm. Head over and ask him how awesome Steven Strasburg is or how long he thinks it'll be until Gerrit Cole blows out his labrum (12 K in 5 IP last night). I keed, I keed.
Photo Credit: Hans Deryk, Reuters Pictures