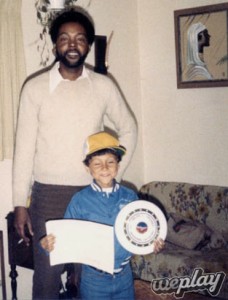 That young whippersnapper is one Mr. Derek Sanderson Jeter, before he got all grow'd up and clutchy, and comes courtesy of his photo gallery at We Play. We Play is a website the Cap'n founded along with Peyton Manning and LeBron James to promote youth athletics. Jeter was on Good Morning America this morning to promote the organization, and it was your basic ABC puff piece until Robin Roberts broke out the A-Rod steroid questions. Parade, rain. Rain, parade.
If you want to learn more about We Play, give the site a visit via the link above. Whenever a superstar player uses his popularity for the betterment of kids, it's a great thing. Well done Jetes. (h/t Deadspin)
Here's your open thread for the night. The only local team in action tonight is the Knickerbockers, who are out in Denver. American Idol is also on, if that's your cup of tea. Good thing I have lots of reading to catch up on. Anything goes here, just be nice.
Oh, and in case you need a little comic relief, Sidney Ponson has a spot in the Royals' rotation all but wrapped up. (h/t jsbrendog)