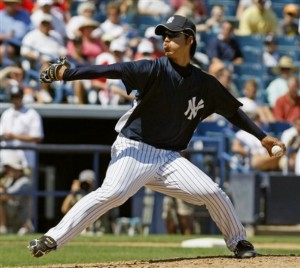 With a team like the Yankees, there really aren't many questions that need answering in Spring Training each year. We know who's going to play on the infield every day for the next two years, and 80% of the rotation is locked up for the foreseeable future as well. Sorting out the last bullpen spot and maybe center field just isn't all that exciting.
Thankfully, there's always Triple-A. The organization is blessed with Major League ready pitching depth at the minor's uppermost level, and they sport position players cut from every kind of cloth imaginable. Very few of these players are guaranteed full time jobs with Scranton, and the rest of the bunch are is just doing their best to secure a job beyond the end of camp.
As Spring Training roars past it's midpoint, we can start to get a sense of who fits where in the Triple-A picture. Some guys have been locked into jobs since November, others have taken advantage of their opportunity and are beginning to run away from the competition, while other players haven't done much of anything to help their cause. There are still enough question marks that it's worth breaking down the roster position by position, and try to figure out who fits where.
Much like everything else he does, I like the way Jason Churchill presented his Triple-A Tacoma projection over at his awesome site Prospect Insider, so excuse me while I bite his style. The good stuff is after the jump.
CATCHER
Candidates: Kevin Cash, Frankie Cervelli, PJ Pilittere
Pilittere has spend the past two years at Double-Trenton (hitting .270-.317-.343 across 780 plate appearances) and Cash is a textbook example of an emergency third catcher brought in on a minor league deal. Cervelli has to spend more time in Trenton after missing all but 27 games of the minor league season last year due to wrist and knee injuries.
Projection: Cash & Pilittere
FIRST BASE
Candidates: Eric Duncan, Juan Miranda
Eric Duncan is on his last prospect legs and will start his fourth consecutive season at the Triple-A level. He won't hit enough to supplant Miranda, who is going to get every opportunity to play as the team hopes he boosts his trade value by learning how not to embarrass himself against southpaws.
Projection: Miranda
MIDDLE INFIELD
Candidates: Doug Bernier, Angel Berroa, Ramiro Pena, Kevin Russo
Berroa will probably start the year with the big league club as the utility infielder thanks partly to his torrid spring (.429-.444-.743), but mostly because of A-Rod's injury. Pena's glove is Major League ready, and he's accumulated 1,092 plate appearances at Double-A Trenton over the last four seasons, hitting a career high .266-.330-.357 last season. Russo broke out with a .307-.363-.416 line last year, but his brutal spring (.056-.150-.056) could land him back to Double-A Trenton. He does have the favorable asset of being the  organization's best middle infield prospect above A-ball working for him. Bernier has been a Triple-A super utility man for Colorado the last two years, and there's no reason to suspect he'll fill a different role this year.
Projection: Pena & Russo
THIRD BASE
Candidates: Justin Leone, Eric Duncan
Both players are locks to make Scranton's roster, however the prospect halo still flickering above Duncan's head probably gives him the edge. A straight platoon is possible, however Leone could serve as a super sub and fill-in at a different spot each day depending on who needs a day to deal with some aches and pains.
Projection: Duncan
OUTFIELD
Candidates: Colin Curtis, Shelley Duncan, Edwar Gonzalez, Austin Jackson, Todd Linden, John Rodriguez
J-Rod is probably the best pure hitter on the team, putting up at least a .363 OBP and .500 SLG in four of the last five seasons, and has a chance to help the big league club if all hell breaks loose on the injury front. Jackson is the club's best prospect and will have the spotlight on him all season after holding his own at Double-A last year. Curtis probably needs to repeat Double-A after a .255-.329-.368 showing there last year. Shelley has the benefit of being the incumbent, and Linden will likely be released at the end of camp because he's been dreadful (.059-.158-.059) and has too many people ahead of him. Gonzalez will probably fall victim to the numbers and return to Trenton.
Projection: J-Rod, Jackson & Shelley
STARTING ROTATION
Candidates: Al Aceves, Dan Giese, Phil Hughes, Kei Igawa, Jason Johnson, Ian Kennedy, George Kontos, Brett Tomko, Phil Coke
Hughes is the Yanks' sixth starter and will bide his time at the front of the Scranton's rotation working on that new split-change. Kennedy has already been optioned down to Scranton and Igawa is a shoo-in for the rotation despite his surprisingly good spring. Given their spring performances Tomko and Coke are near locks to make the big league club out of camp, while Aceves' lack of performance means a Triple-A assignment is likely. After a strong performance at Trenton last year (3.62 FIP in 151.2 IP) Kontos is ready for a promotion and gets the nod over 35-year old Johnson, who is a candidate to be released before the season starts.
Projection: Hughes, Kennedy, Aceves, Igawa, Kontos
BULLPEN
Candidates: Jon Albaladejo, Anthony Claggett, JB Cox, Mike Dunn, Steven Jackson, Zack Kroenke, Mark Melancon, David Robertson
Claggett and Jackson are locks for the Triple-A squad given their placement on the 40-man roster and impressive preseasons. Melancon is a shoo-in as well, and has already been assigned to minor league camp. Albaladejo and Robertson are going to be in competition for the final big league bullpen spot right down to the last game of spring, and the gut feel here is that Albie heads north. Dunn was optioned down over the weekend, and the fact that he only has about a half-dozen innings worth of experience above A-ball is enough for me to say Double-A is his likely destination. The Marlins returned Kroenke yesterday after Rule 5'ing him, and he's ready for Triple-A after allowing just 28 hits in 43.2 IP at Trenton last year. Cox should be back for another go around this year, and Giese will likely beat out Jason Johnson for that last bullpen spot, presumably after he's removed from the 40-man.
Projection: Claggett, Cox, Jackson, Kroenke, Melancon, Robertson, Giese
EVERYDAY LINEUP
1. Kevin Russo, 2B
2. Austin Jackson, CF
3. Juan Miranda, 1B
4. Shelley Duncan, RF
5. John Rodriguez, LF
6. Justin Leone, DH
7. Eric Duncan, 3B
8. PJ Pilittere, C
9. Ramiro Pena, 2B
That's my guess at how manager Dave Miley will fill out his lineup card. The organization mandates where the top prospects hit, and Jackson has accumulated 49.5% of his career at-bats from the two-hole, by far the most of any batting order spot. Shelley bats cleanup because he's the grizzled Triple-A vet with big league experience, and Miranda fills the always prestigious third spot like he did last year. Everyone else just kinda falls into place.
As far as the pitching staff goes, I think Steven Jackson has a leg up on the closer's job after his shutdown work last year. Melancon and Cox might start the year on set pitching schedules while Claggett, Robertson and Kroenke fill situational duties. Giese is the designated long man/spot starter, a surprisingly important gig in the minors. Hughes fronts the rotation, and everyone else just settles in place behind him.
On paper it seems like a pretty solid squad, but who knows when it comes to Triple-A teams. They're usually torn apart within the first month of the season.
Photo Credit: Kathy Willens, AP