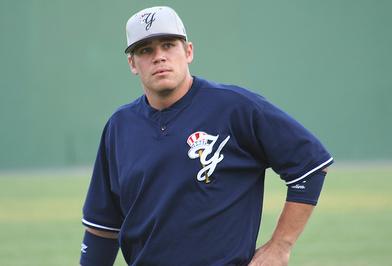 Eric Duncan | 1B/3B
Background
Born just outside of Morristown in Florham Park, NJ, Duncan grew up a Yankee fan and idolized Paul O'Neill. He spent most of his childhood in California, moving back to New Jersey when he was in the eighth grade. Duncan attended Seton Hall Preparatory School in West Orange and set school records for batting avg (.536), hits (52), homers (12) and RBI (60) as a senior. He was named the Gatorade New Jersey High School Player of the Year and earned a spot on the Baseball America All-American First Team.
Committed to Louisiana State strictly for negotiation leverage purposes, Baseball America rated Duncan the best prospect in the state and 23rd best prospect overall for the 2003 draft. The Yankees selected him with their first round pick, number 27 overall, and he signed days after the draft for  a $1,250,000 bonus. Duncan is the best high school hitter to come out of New Jersey in the last decade, if not longer.
Pro Career
Assigned to the Rookie level Gulf Coast League after signing, Duncan hit .278-.343-.400 with twelves doubles and two homers in 180 at-bats before being bumped up to Short Season Staten Island for a late season cameo. In fourteen games (59 AB) with the Baby Bombers he hit .373-.393-.695 with five doubles, four triples and two homers. Baseball America rated him the top prospect in the GCL after the season, ahead of Jarrod Saltalamacchia and Matt Capps.
Duncan started his first full professional season with Low-A Battle Creek, where he was named to the All-Star Team after hitting .260-.347-.479. The Yanks moved him up to High-A Tampa in the second half where he held his own by hitting .254-.365-.458. All told, Duncan's line on the year was .258-.354-.471 with 16 homers and an 43 freaking doubles. He struck out 131 times in 130 games, but his K/BB ratio went from 2.21 with Battle Creek to 1.52 after the promotion. Duncan was named the third best prospect in the Midwest League and the tenth best prospect in the Florida State League after the season, and he was clearly the top prospect in the Yanks' system.
The Yanks continued to move Duncan up the ladder aggressively by sending him to Double-A Trenton to start 2005. He struggled as one of the youngest hitters in the league, posting then career lows across the board with a .235-.325-.408 batting line, although he did set a career mark by clubbing 19 homers. Duncan was hit in the head by a pitch on August 14th and didn't play the rest of the season. Despite the down year, Baseball America still rated him as one of the twenty best prospects in the Eastern League.
Even with his struggles and injury at Double-A the year prior, the team bumped Duncan up to Triple-A Columbus at the outset of 2006. He predictably struggled, hitting just .209-.279-.255 with no homers in 31 games before going down with a back injury. He missed just about two months with the injury, and once healthy the team was kind enough to send him back to Trenton. He rebounded well in his second go around with the Thunder, hitting .248-.355-.485 with 10 homers and 15 doubles in 57 games to close out the season. The Yanks sent him to the Arizona Fall League after the season to make up for lost time, and Duncan regained some prospect status by hitting .362-.423-.734 and winning the league MVP.
Duncan had a decent showing in Spring Training, highlighted by a two-run pinch-hit homer off Salomon Torres. He started 2007 at the Triple-A level for the second consecutive year and performed better than his 2006 showing, although that's not saying much. He hit .241-.323-.389 with 11 homers and 26 doubles in 113 games, continuing to battle nagging back issues. The Yankees declined to add Duncan to the 40-man roster after the season and he was left exposed in the Rule 5 Draft, though he ultimately went unselected and remaining with the organization.
Once again starting the year in Triple-A, Duncan had the worst season of his career in 2008 and was relegated to part-time duty for stretches of the season. He hit .233-.295-.366, career lows across the board. The highlight of his season came in Game One of the International League Championship Series, when he knocked home the winning run with a walk-off single in the bottom of the 9th. Duncan went 3 for 19 (.158) with that one run batted in and twelve strike outs during the four game series, striking out exactly three times in all four games. Again Rule 5 Draft eligible after the season, Duncan again went undrafted after the Yanks left him off the 40-man roster.
Scouting Report
Duncan's calling card has always been his light tower power from the left side. His swing is picture perfect and his wrists are quick enough to turn on quality fastballs on the inner half. He can absolutely annihilate mistake pitches. Breaking balls have long been his bane however, as Duncan hasn't learned to recognize them out of the pitcher's hand or developed the ability stay back and trust his hands. His knowledge of the strike zone is generally good, and he's shown a knack for coming up with big hits.
Defensively, Duncan had to slide over to first base from the hot corner as his career progressed, a move that wasn't unexpected. His hands are decent and he's okay around the bag, but his range is limited and his throws are inconsistent. Duncan's not a total butcher, but he'll never save a game with his glove. He's a below average runner, and the nagging back injuries are also a concern. To his credit, Duncan has outstanding makeup and has shown tremendous work ethic and dedication despite all of his struggles.
You can see a clip of Duncan in the AzFL here, as well as a clip of him falling victim to David Price here.
2009 Outlook
Duncan will make another return trip to Triple-A this year. As always, a strong showing there could earn him some big league action if everything goes his way.
My Take
The Yankees rushed Duncan up the ladder because they had very few prospects when he was drafted and they wanted to boost his trade value, and it's certainly crippled his development. If he was ever going to have that long awaited breakout, this would be the year to do it; he'll become a six year minor league free agent after the season unless he's added to the 40-man roster. Because he's left handed, can hit the ball a long way on occasion, and play two positions passably, it's still possible for Duncan to carve out a nice career as a bench player/pinch hit specialist with a NL club. He's also going to give the outfield a try this year, which would give him an even better chance to land a bench job. He's over a full year younger than Brett Gardner, so we're not talking about a prospect past his expiration date just yet. I figured this might be one of the last opportunities I get to profile E-Dunc, so here you go.
Photo Credit: Flickr user a fan of the game