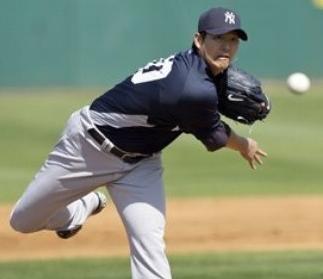 Did you know that last night's win was the Yanks' first win since February 26th, a span of seven games? Is it a coincidence that they won when A-Rod was away from the team? I THINK NOT!1!!!1!
Chien-Ming Wang will be making his second start of the preseason this afternoon, and the Braves will counter with young Jair Jurrjens. Wanger is scheduled to throw between 35-40 pitches, and if the sinker's working that could mean as many as five innings. I doubt it though, three is more likely. Here's his backup:
Damon, LF
Melky, CF
Teixeira, 1B
Matsui, DH
Nady, RF
Ransom, SS
Leone, 3B
Pena, 2B
Pilittere, C
Scheduled Pitchers: CMW, Brett Tomko, Phil Coke, Mike Dunn, Wilkins DeLaRosa
The game is on YES, first pitch is scheduled for 1:15. I look forward to hearing Michael Kay say the A-Rod injury is a blessing in disguise. Derek Jeter and Team USA will be taking on Team Canada in the WBC at 2:00; the game can be seen on ESPN if you're interested.
Photo from the AP