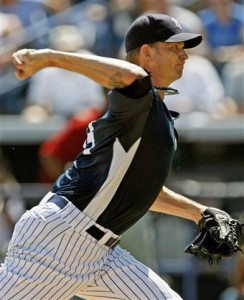 Looking to improve upon his stellar spring (6 IP, 1 baserunner), AJ Burnett will face his most recent former team tonight, the Toronto Blue Jays. Well, at least a bunch of guys wearing the Jays uni anyway. Only three players off the Jays projected starting nine made the trip to Tampa, the best of the bunch being second baseman Aaron Hill. The opposing starter will be Casey Janssen, who missed all of 2008 due to a torn labrum.
Following Burnett will be Mariano Rivera, who's going to make his second appearance of the spring. Based on his last outing, Mo's already in midseason form. Jorge Posada will make his third appearance behind the plate tonight and will probably catch five or six innings. Here's the rest of the starting nine:
Posada, C
Damon, LF
Swisher, 1B
Matsui, DH
Nady, RF
Ransom, 3B
Melky, CF
Berroa, SS
Pena, 2B
Scheduled Pitchers: AJ Burnett, Mariano Rivera, Edwar Ramirez, Dan Giese, Brian Bruney
YES will have the action, first pitch is at 7:15.
Photo Credit: Kathy Willens, AP