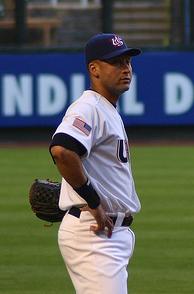 Derek Jeter has played in 1,985 regular season games in his career, 123 more in the playoffs, and who knows how many more in Spring Training. He's racked up 2,535 hits, reached base 3,486 times, and scored 1,467 runs, but today he's going to do something for the first time in his career: He's going to play against the Yankees.
The second edition of the World Baseball Classic kicks off on Thursday, but Team USA comes in to Tampa today for a little tune-up against out beloved Bombers. Jeter will certainly look weird in an unfamiliar uniform, but he'll be hitting in his familiar number two spot in the order. Considering that his backup is a former MVP, you shouldn't expect him to play the entire game.
It's not often that someone steals the thunder from a Phil Hughes start in the RABiverse, but The Cap'n playing against his team will do the trick. We've got quite the matchup today, so here's each team's starting nine:
Team USA
Pedroia, 2B
Jeter, SS
Chipper, DH
Wright, 3B
Dunn, RF
Youkilis, 1B
Braun, LF
McCann, C
Granderson, CF
Scheduled Pitchers: Roy Oswalt, Jonathan Broxton, Matt Lindstrom, Brad Ziegler, Matt Thornton, LaTroy Hawkings
Yankees
Damon, LF
Gardner, CF
Teixeira, 1B
Posada, DH
Nady, RF
Ransom, 2B
Cash, C
Berroa, SS
Leone, 3B
Scheduled Pitchers: Phil Hughes, Phil Coke, Mike Dunn, Jose Veras, Eric Hacker, David Robertson, Kanekoa Texeira
The game will be broadcast live on both YES and MLB Network. According to my DVR, YES will replay the game at 11:00pm tonight and 9:00am tomorrow if you miss it.
Photo Credit: Flickr user corellianjedi2