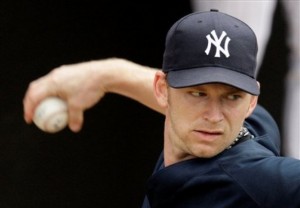 We've got our first split-squad action of the spring today [insert "you usually have to pay double for that kind of action, Cotton" joke here], and each game will feature a former Yankee great. AJ Burnett will take on the Astros at home, who will have Aaron bleeping Boone playing first and batting fifth. Phil Hughes and Co. are making the hour long drive down to Bradenton to face on the Pirates, who are sending old pal Ross Ohlendorf to the hill. This will be Burnett's second start and Hughes' four appearance (third start) of the spring.
Short on bodies because of the double-dip, the Yanks brought Eric Duncan, Walt Ibarra and Edwar Gonzalez over from minor league camp and will have them suit up for Team Burnett. Here's the starting … err … eighteen:
Home vs. Astros
Gardner, CF
Damon, LF
Nady, RF
Matsui, DH
Ransom, 3B
Molina, C
Miranda, 1B
Berroa, SS
Leone, 2B
Scheduled Pitchers: AJ Burnett, Dan Giese, Brian Bruney, Edwar Ramirez, Chris Garcia
Away at Pirates
Melky, CF
Swisher, RF
Teixeira, 1B
Posada, DH
Austin Jackson, LF
Cash, C
Bernier, 2B
Russo, 3B
Pena, SS
Scheduled Pitchers: Phil Hughes, Ian Kennedy, Jason Johnson, Jon Albaladejo, Mark Melancon
Both Edwar and Jason Johnson will be making their spring debuts after battling a sore shoulder and retinal cancer, respectively. The game against Houston will be on YES at 1:15, but I think I'd rather be watch the squad out in Bradenton. Hey, it's better than nothing.
Photo Credit: Gene J. Puskar, AP