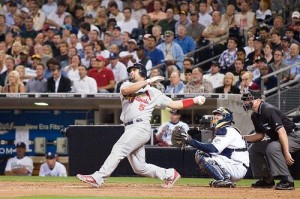 When it comes to the amateur draft, most fans focus their attention on top high school and college prospects, but don't really pay too much attention to junior colleges. It's understandable because most of the best players in the country are recruited by four-year schools and end up there, but that doesn't mean there aren't talented players attending two-year institutions.
No team has worked the JuCo angle better than the Braves in recent years, which is no surprise since they dominated the draft-and-follow landscape for what seems like an eternity. They've landed premium prospects like Tyler Flowers, Tommy Hanson, Kris Medlen, and Cole Rohrbough out of junior colleges within the last four years alone. Beyond the Braves, players like Andy Pettitte, Jorge Posada, Rich Harden, and one Mr. Jose Alberto Pujols have been drafted out of junior college, so you can bet there's some gems to be found.
The most attractive aspect of JuCo players is that they offer the projectability and upside of a high school kid with some of the experience and fine tuning of a college player. The top pitchers haven't been run into the ground for three years and the top hitters haven't had enough time to develop bad habits with metal bats. I never really looked at JuCo prospects before, and I was surprised at how many quality players are out there. Here's three of them; the good stuff is after the jump.
Jake Cowan, RHP, San Jacinto College (Texas)
An infrequently used freshman reliever at Virginia, Cowan transferred to JuCo powerhouse San Jacinto to get more playing time and increase exposure, but becoming draft eligible a year earlier is a nice perk. The righthander has been one of the Coyotes' most dominant pitchers, putting up a 45-11 K/BB ratio while allowing just 25 hits in 32.2 IP.
Rail thin and uberprojectable at 6′-3″, 170 lbs, Cowan works off his low-90's two-seamer with heavy boring action. He can also throw a straight four-seamer with similar velocity, and backs that up with a pair of breaking balls. Cowan's slider is his number two pitch, and it features late-break while touching the mid-80's at times. His curveball is still a work in progress and is clearly his fourth best offering. Cowan has a smooth delivery with a clean arm action and excellent extension, adding life and deception to his pitches. His command is very good for a pitcher his age. Cowan has an arm worthy of a first day pick, and has major sleeper potential.
Dillon Hazlett, SS, Allen County CC (Kansas)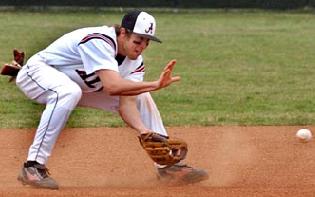 An unheralded player coming out of Topeka High School, Hazlett headed to Allen County and has transformed himself into the best draft prospect in the state of Kansas, junior college or otherwise. He won Freshman of the Year honors after leading the team with 7 homers and 22 stolen bases. He also hit .384 with 12 doubles and 45 RBI in 36 games. Hazlett has managed to improve upon those numbers this year, hitting .454-.526-.754 with 25 steals.
Baseball America recently featured Hazlett in a post on their Draft Blog, giving us a brief scouting report:
A 6-foot-1, 191-pound sophomore, he's an explosive athlete. He has plus speed, good actions and arm strength at shortstop, and quick hands at the plate that give him surprising pop.
The Yanks have improved their middle infield depth considerably in the last two years, drafting the likes of David Adams, Carmen Angelini, Garrison Lassiter, and Damon Sublett, but all of those players have their warts and none of them are out of A-ball. Committed to UNC, Hazlett is a first day player and would be a coup for the Yanks anywhere beyond their top two picks.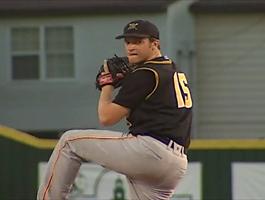 Danny Webb, RHP, Northwest Florida State
The name probably sounds familiar, and that's because Webb was a Top 50 talent for the 2008 Draft before bonus demands led to him slipping to the 12th round, when the Diamondbacks rolled the dice. He obviously didn't sign, nor did he follow through on his commitment to Kentucky because of a coaching change.  Webb instead headed to Northwest Florida State, formerly known as Okaloosa-Walton College, where he's allowed 55 hits with a 41-30 K/BB ratio in 52.1 IP covering 12 starts.
Despite his underwhelming stats, Webb still has the power arm and power stuff that had him demanding seven figures last year. He dials his fastball up to 92-94 and can touch 96, but both of his breaking balls are works in progress. Webb is a bit of a project and will require patience, but his delivery is surprisingly sound. He clearly has the highest upside of any JuCo player available in this year's draft, and might still be around when the Yanks pick in the fourth round, #135 overall.
* * *
The Yankees forfeited their top three draft picks as free agent compensation, and scouring an often underappreciated talent resource can help them make up for the lack of early picks. I really like Cowan's combination of present stuff and future projection, so I prefer him to the less refined Webb. This draft class lacks impact college middle infielders beyond the top three or four players, so it's possible a team will reach for a Hazlett. If not, he'd be a rock solid addition to the system and would immediately become the best in-house Life After Jeter option.
With the way teams are scouting every corner of globe for talent these days, it's only a matter of time before the hidden gems of junior colleges become unhidden, and that day is fast arriving.

Photo Credits: Pujols via Flickr user SD Dirk, Cowan via David Petkofsky (UVa), Hazlett via Jocelyn Sheets (Iola Register) via ACCC, Webb via WPSD Local 6