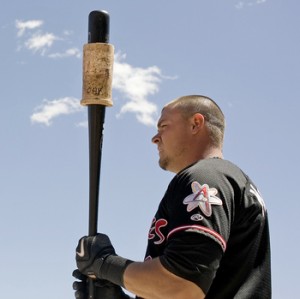 Late last night we got word that the Marlins had released third baseman Dallas McPherson, a former top prospect with the Angels. Rated the twelfth best prospect in the game as recently as 2005 by Baseball America, McPherson was never able to grab hold of the Halos' hot corner job and saw his career beset by a series of hip and back injuries. After signing a Major League contract with the Marlins last offseason, he brought his baseball career back from the grave with a monster year in the Pacific Coast League, clubbing 42 homers with the Simpsons inspired Albuquerque Isotopes. I think you know where this post is going.
First things first, McPherson had a phenomenal year last year (.275-.379-.618) in his first healthy year since 2004, but he was in an extremely favorable environment. The PCL is a hitters' league in general, plus Albuquerque is at altitude (his home OPS was nearly two hundred points greater than his road OPS), giving him another nice boost. Translating his numbers to a neutral MLB environment (via the MLE Calculator) gives you a .207-.295-.440 batting line with a Mo awful 181 strikeouts in 468 at-bats. The .233 IsoP is dead sexy, and that's pretty much right in line with his .213 career mark. There's no doubt about it, the guy can hit the ball a long way. He just struggles making contact.
The second part you need to understand about his offense is his massive platoon split. A lefty, McPherson hit just .217-.308-.528 against his fellow southpaws last year, down from .285-.395-.635 against righties. In his big league career (128 total games), he's managed just a .176-.218-.297 line off lefties, with a 38.5% strikeout rate. If the Yanks were tempted to bring McPherson aboard, it would have to be in a platoon situation only, which is fine because Cody Ransom is a righty and annihilates lefties (1.056 career OPS).
Defensively, he's nothing special. Total Zone had him pegged as a zero run defender in Triple-A last year, which is about what you'd expect from him following surgery to fuse two of his freaking vertebrae together. I think his days of being a +9 UZR third baseman – which is what he was pre-injuries – are over. He can also play first, but that's not going to make or break a deal for him.
CHONE sees a .203-.301-.409 line for McP next year, which is better than what it spits out for Ransom. Platooning the two will probably bump you up into the .250-.310-.430 range, an improvement over what you'd reasonably expect each player to do individually. Adding McPherson also allows Ransom to serve as the utility infielder (on days he starts you just slide him around if needed), which keeps Angel Berroa's inevitable suckiness off the team, not to mention stopping all this Ramiro Pena nonsense. (Seriously, it's Ramiro frickin' Pena, when did this guy become the next great Yankee shorstop?)
Now, there's two problems here. One is that the Yanks certainly won't be the only team interested. The Astros can use a third baseman, and teams like the Giants and Tigers could use upgrades. Don't discount the Cardinals either. The second is that once A-Rod comes back, McPherson's useless because he can't play anywhere other than first or third. You'd have to keep Ransom as the spare infielder because he can actually play the two middle spots. And as we've mentioned a bunch of times the last few months, why should we expect this guy to sign with the Yanks when other teams can offer him more playing time and greater opportunity? Because he wants to win? Puh-lease, the guy's looking for the longest guaranteed paycheck he can find.
The Fish resigned McPherson to a one year, $500,000 contract earlier this offseason to avoid arbitration (he's a Super Two), so they're stuck eating that money while all his new team is on the hook for is the league minimum. He hit .239-.314-.370 in 46 at-bats this spring, but is out-of-options and the team had no room for him, hence the release. I obviously think the Yanks should look into McPherson as a temporary solution at third base, but I'm not very confident they'll be able to land him. A gig with basically zero security beyond May just isn't very attractive to a player in McPherson's position. I've certainly been wrong in the past though, so who knows.
Photo Credit: Rick Scibelli Jr., The New Mexican