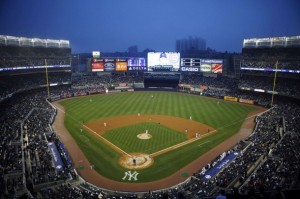 Ah finally, the last day of meaningless baseball. The only thing on the line today is the utility infielder job, but I think that's already been decided and just hasn't been announced. After the game the team will get ready for their season opener on Monday afternoon, when they'll be in Camden to take on the improving Orioles.
The New Stadium looked amazing last night, now we get to see how she looks during the day. As Ben mentioned this morning, the two of us will be there to soak it all in. Well, hopefully the weather cooperates and we won't have to soak anything in, literally. I'll be wandering around beforehand, but I'll settle in to my seat (Section 420B, Row 5, Seat 9) about a half-hour before first pitch. Stop by and say hi.
AJ Burnett is starting and will be relieved by Andy Pettitte. I'm guessing we'll see Phil Coke and Damaso Marte if any extra arms are needed since they didn't throw yesterday. Head on over to LoHud for the lineup. Enjoy the game folks.
Photo Credit: Eric Thayer, Reuters