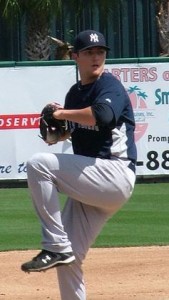 The last time we saw Phil Hughes, he took a no-decision in Toronto after throwing eight innings of two run ball. He returns to the big league team just over six months later, filling in for a horrifically ineffective Chien-Ming Wang. To make room for Hughes on the roster, the Yanks returned Steven Jackson to Triple-A Scranton. Jackson was with the team for eight games, but he didn't do anything more than warm up in the bullpen a handful of times.
The team has been brutal whenever I've written the game thread (1-4, outscored 37-22), so I'm going to quit while I"m ahead. Here's the lineup:
Jeter, SS
Damon, LF
Teixeira, 1B
Matsui, DH
Cano, 2B
Swisher, RF
Melky, CF – looks it look Gardner 18 games to lose his job
Molina, C
Pena, 3B – looks like it took Berroa 2 games to lose his
And on the mound, number sixty-five, Phil Hughes.
Notes: In case you missed it, A-Rod's coming back a week earlier than expected. Thank Mo.
Photo Credit: Flickr user DJ Brian Eason