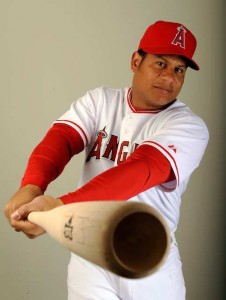 The Bombers are coming off two big wins in Detroit and two impressive starting pitching performances, but their bane comes marching in to the New Stadium tonight for a four game series. The Angels have beat the Yanks down the last few years, but the Halos are decimated by injuries and the unfortunate passing of Nick Adenhart. Young Anthony Ortega is making his second career start tonight, having allowed five runs in five innings against the Mariners last Saturday.
A nice little side story to tonight's game is Bobby Abreu's return to the Bronx. Bobby put up two-and-a-half productive years with the Yanks, and has been just as productive with Anaheim. He's hitting .368-.430-.434 and is third in the AL with eight steals. (Who saw that coming?) Bobby has yet to hit a homer this year, but I'm guessing he'll finish this four game set with at least one. I'll give him a nice hand from my seat in the bleachers, but first plate appearance only. After that, I'm going for blood.
The lineup:
Jeter, SS
Damon, LF
Teixeira, 1B
Matsui, DH
Cano, 2B
Posada, C
Swisher, RF
Melky, CF
Pena, 3B
And on the mound, number thirty-four, AJ Burnett.
Credit: Kevork Djansezian, Getty Images