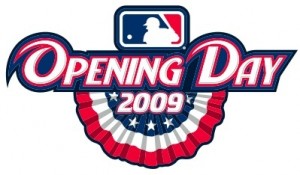 It's like Christmas, but better.
After six long and occasionally torturous months, the Yankees will finally return to paying meaningful games today. The weather looked threatening at one point, but it's cleared up a bit and it now looks like we'll have baseball down in Baltimore. Praise be to Mo.
Your Opening Day starting nine:
Derek Jeter, SS
Johnny Damon, LF
Mark Teixeira, 1B
Hideki Matsui, DH
Jorge Posada, C
Robbie Cano, 2B
Xavier Nady, RF
Cody Ransom, 3B
Brett Gardner, CF
And on the mound, weighing in at $170,000,000, CC Sabathia.
Notes: Expect Tex to get the bejesus booed out of him … you can find out 2009 Predictions thread here … please considered participating in The 2009 RAB Pledge Drive to benefit Joe Torre's Safe At Home Foundation if you haven't already …