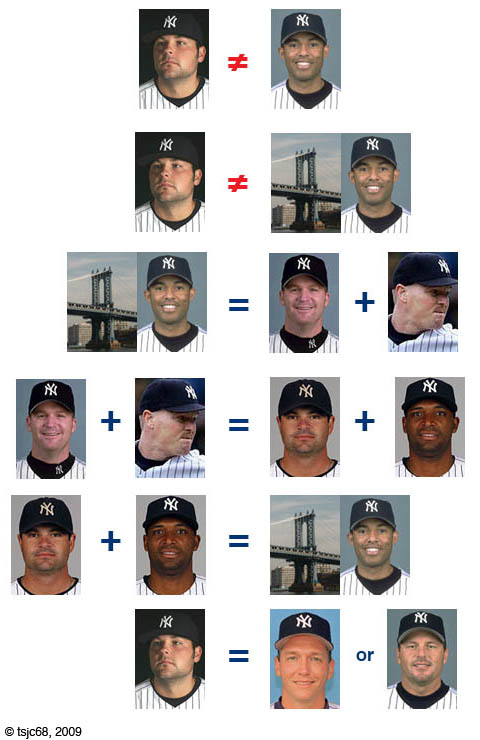 Brian Bruney is on quite a roll of late. Since a rough Opening Day outing in which he allowed two runs on a hit and a pair of walks in just a third of an inning, the righty has retired 17 straight batters, 12 via the strikeout. Bruney's been the second most valuable reliever in the AL on the young season, chipping in 0.4 wins above replacement. His 15.43 Kper9 ranks fifth in the league. In a bullpen that has been overworked and underwhelming because of Chien-Ming Wang's struggles, Bruney's been an extreme bright spot. He's shut the B-Jobbers up for the time being, but that's just not enough for some people:
For the moment, the debate over whether Chamberlain should be the setup man is not even relevant. Bruney, who has retired 17 straight hitters, seems more than qualified for that role. The Yankees' problem will not be getting to Rivera. It will be getting to Bruney.
OMG … the 7th inning!!! Why didn't they think of that before?!?!?
I'm sorry, but this is too funny. The MSM just moves from one thing to the next. If Joba's in the rotation who will set up Mo? Well that question's been answered, but now who's going to set up the setup man? And what about those crucial outs in the sixth inning? Who's going to pitch those innings now that Bruney's setting up?!? It never ends.
Anyway, here's your open thread since tonight's game was postponed. The Rangers are home tonight, and are looking to take a commanding 3-0 series lead against the Caps in the Eastern Conference Quarterfinals. The fact that they went to Washington and took Games One & Two on the road while keeping Alex Ovechin and Mike Green out of the goal column is nothing short of a miracle.
Hat tips go to RAB regulars Jamal G. for the article on the 7th and tommiesmithjohncarlos for the graphic.
* * *
Yanks to skip Wang's next start
Update by Ben (7:17 p.m.): The Yankees have announced the rotation for the next four games, and Chien-Ming Wang is not in it. Andy Pettitte and CC Sabathia will close out the Oakland series, and then A.J. Burnett, Joba and Pettitte will take on the Red Sox in Boston. The team has yet to announce what they plan on doing with Wang for the next week or so. I'm guessing he'll work on the side and probably toss some live BP. The Yanks really need to work out his mechanical issues.