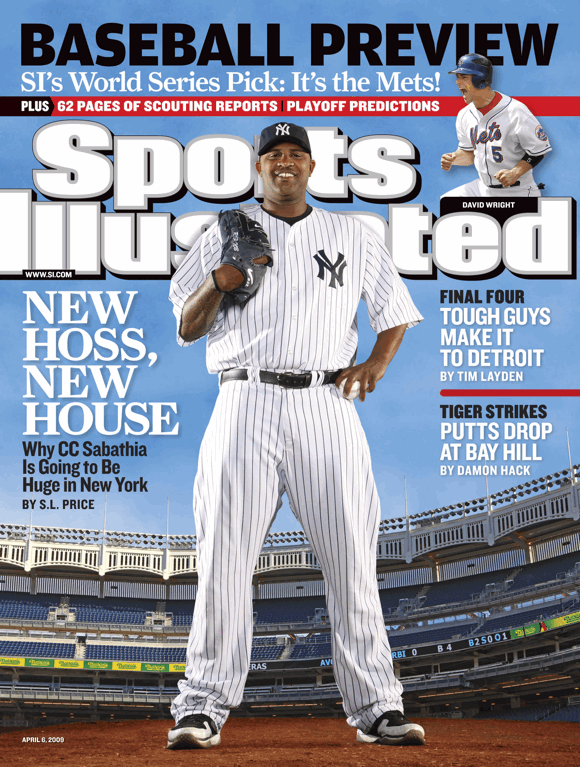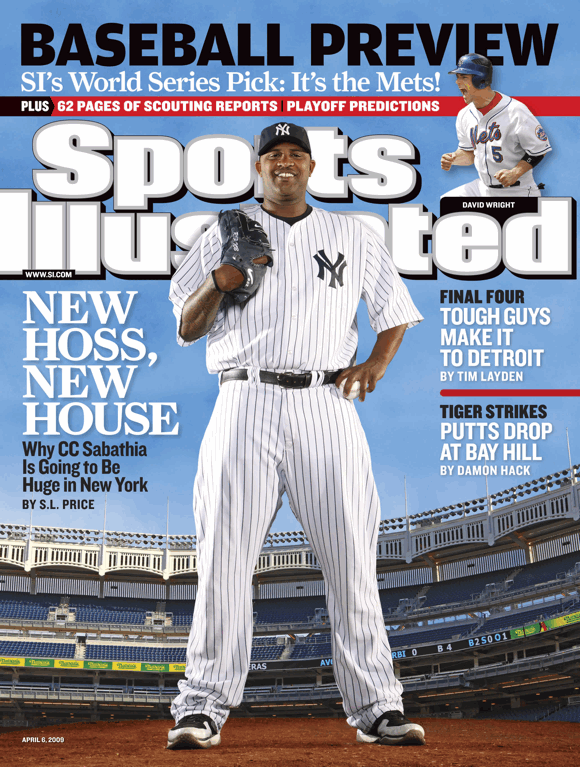 That is a very big picture of a very big man, and today, that image graced newsstands across the country. Sports Illustrated unveiled their 2009 baseball season preview this morning, and it's very Yankee-centric except when it counts. More on that in a second.
The centerpiece of the issue is a lengthy article, not yet online, about CC Sabathia. In it, S.L. Price talks about how great a fit Sabathia will be for New York. While he may not have been ready for the big stage three years ago, according to Price, after a few years of elite pitching, Sabathia has come to embrace what he can do on the mound.
I had the opportunity to read through a PDF of the profile, and it's very illuminating. I know I run the risk of sounding like a mouthpiece for SI, but check it out and see for yourself.
The SI issue also contains team profiles of each of the 30 clubs. Mostly, they read as fluff pieces focusing, as the Yanks' one does, on team chemistry and Nick Swisher's enthusiasm.
And of course, no SI preview would be complete without some season predictions divorced from reality. SI picks the Yanks, Twins and Angels as the division winners in the AL with the Red Sox as the Wild Card. The Yanks are picked to face — and lose to — the Angels in the ALCS, and the Mets are somehow picked to win the World Series. Yeah, right.
Derek Jeter update
Not to toot our own horn too much, but Joe Girardi confirmed today that Derek Jeter will be in the leadoff spot on Opening Day. Just remember where you heard it first.
The Fine Print
This is your open thread. In a few days, we'll be able to do Game Threads at 7 p.m. That will be glorious. Play nice.