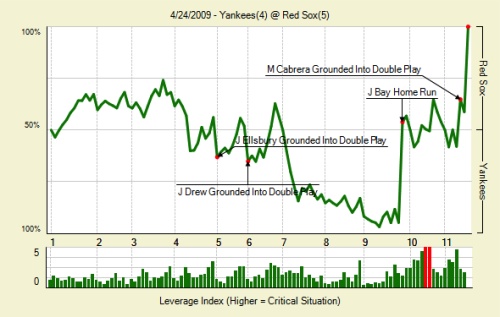 Five-point-three percent. Those were the Red Sox odds of winning the game when Jason Bay stepped to the plate last night. If WPA were more advanced and took the pitcher and batter into play, I'm fairly certain that it would have been a tick lower. We all know what happened, so it's pointless to belabor the point.
The homer was clearly the biggest WPA swing of the game, followed closely by the walk-off. Let's look at some of the other big WPA swings:
Melky, -22.8%, double play in the top of the 11th, men on 1st and 2nd with one out.
Teixeira, -15.3%, strikeout in the top of the 10th, 2nd and 3rd with two out.
Jeter, 10.4%, double to lead off the top of the 7th
Ransom, 17%, RBI double to tie the game in the 4th.
So the Yanks had their share of ups and downs, but so did the Red Sox:
Nick Green, 11%, RBI single to tie the game in the bottom of the 6th.
J.D. Drew, -17.1%, double play to end the 5th, 1st and 3rd with one out.
Jacoby Ellsbury, -19.2%, double play to end the 4th, bases loaded with one out.
While Joba's stuff didn't overwhelm the Sox hitters, his ability (or was it luck?) to induce a grounder and get the double play absolutely devastated them. He might have lasted only 5.2 innings, but the night could have been a whole ton worse for Joba Chamberlain. Hopefully he can continue to use that two-seamer with guys on base. Then again, the further hope is that he just doesn't put that many men on base in the first place.
In a game with this many dramatic swings, it starts to feel like the outcome is almost random. You can pick through any of the above swings, plus the two home runs, and see infinite possibilities for alternatives. Unfortunately for the Yanks, they're stuck with the iteration of history we saw last night. Thankfully, they probably won't turn out like that all the time.