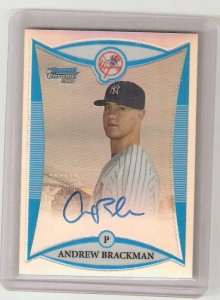 Man, it feels like just yesterday we wrapped up the TJ Rehab Watch, and now I'm here introducing you to this year's Watch already. As the title says, this year we're going to track the progress of Andrew Brackman, the Yanks' 2007 first round pick who will finally be unleashed on minor league hitters this season after missing all of last year due to Tommy John surgery. It's been a long time coming, and hopefully it'll be worth the wait.
Most of you know what this is all about, but for those of you who latched onto RAB for the first this time offseason, here's a quick primer: During the season we'll keep track of two sets of stats for Brackman – his pitching line from his most recent start, and his overall season line. You'll be able to find this info on the far right sidebar, right below the Countdown Clock for the time being. That's it, simple enough.
So what's the point of the Watch? To revel in Brackman's awesomeness. No seriously. It's there to show off his performance and make sure everyone knows how he's pitching. Of course there's always the chance that he might suck, but that's the risk. So far our previous Watchees (Phil Hughes in '06, Joba in '07, the TJ Rehab quartet in '08) haven't disappointed.
Usually I have to debate between three or four worthy candidates all winter before settling on my Watch subject, but this year it was a piece of cake. It's not often a pitching prospect of Brackman's caliber comes along, and when one does he's worth paying attention too. As exciting as Austin Jackson and Jesus Montero are, position players just don't have that wow factor. Zach McAllister and Dellin Betances? They'll have their day. Mark Melancon won't be in the minors all year, and the thought of switching to a new Watch mid-season makes me feel dirty, so he didn't make the cut either.
The minor league season doesn't start until the middle of next week, but I figured it as about time to get this thing up on the site, especially since some other sites are trying to bite our style. I keed, I keed. Enjoy.
Photo Credit: Sports Card Forum