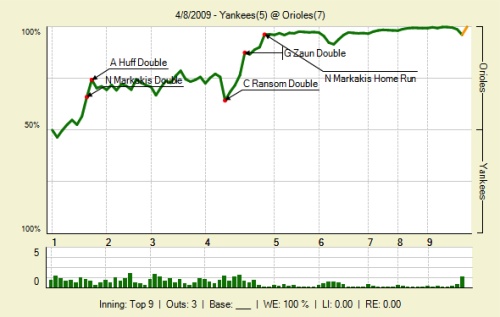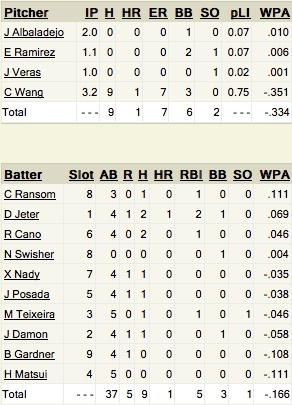 Orioles 7, Yankees 5
What is this nerdy graph?
Holy crap, this team is frustrating. They were bound to play like this at one point or another in the season, but why did it have to come at the start? It makes the whole thing so damned agonizing. You can only tell yourself "it's just a slump" so many times before you get sick of hearing it.
The game started off well enough. Derek Jeter had another exemplary leadoff at bat, walking on six pitches. Things were looking good for a second when Damon ripped one to right, but it was too close to Markakis. After Teixeira hit the first of many Yankees pop outs and Hideki Matsui grounded out, the only enthusiasm left was for Chien-Ming Wang…
…which evaporated pretty quickly. It was apparent right from the start that CMW didn't have it, and when CMW doesn't have it things get ugly. It started with a double from Adam Jones — on what I didn't think was all that bad a pitch — and continued with belt-high pitches to Nick Markakis and Aubrey Huff, both also resulting in doubles. After Melvin Mora hit one Pasta Diving Ransom, Wang finally retired the side. Two and two-thirds innings later, Wang left the game having allowed seven runs.
Wang didn't look bad in the second inning. He left one up in the zone to Felix Pie and he hit it much further than I had figured, but he kept the ball down to Zaun and Izturis, fooling us into thinking he'd settled down. But a shaky third inning turned into a disastrous fourth inning and Edwar had to finish the job. Thankfully, the bullpen took care of it from there, but the offense wasn't up to the task.
The Yanks had a chance to do some damage against Uehara from the get go, but let him off the hook by swinging at too many pitches out of the zone. Tex popped up in the first on ball four, and Matsui swung at a number of pitches out of the zone before grounding out. Most of the guys just weren't having good at bats. Robinson Cano, 2 for 4 with three good ABs; Jorge Posada, 1 for 4 with a double; and Derek Jeter, 2 for 4 with a walk and a homer, were notable exceptions.
What really irks me is that Uehara didn't look that impressive. He had some good movement on pitches, but he was all over the place. He didn't strike out anyone, and again he should have issued more than one walk. The Yanks just wouldn't let him. They came around with some life in the ninth, but this wasn't to be another April 19, 2007.
On the WPA side, Wang was obviously the goat. Hideki Matsui and Brett Gardner brought down the offense, which makes sense because it seemed like Jeter or Jorge lead off every inning. Cody Ransom's double, the biggest WPA swing in the game, kept him atop the Yanks leader board. Jeter, Cano, and Nick Swisher's walk were the only other Yankees in the black.
On a parting note, I feel bad for Jorge Posada. What should have been a fairly easy pop out turned into an adventure at the on-deck circle. On one hand he has to keep his eye on the ball, or else it might hit him on the schnoz. On the other hand he has to watch his step, or else he might trip over the donuts or pine tar rag. He did all he could; there just wasn't a good chance he was catching that ball.
Thankfully, we'll do this again at 1:00 today. A.J. makes his Yanks debut, and hopefully the lineup can score early and often against the worst rotation in the league's third best pitcher.