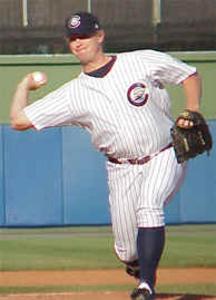 Remember Colter Bean?
The Yankees signed the righty reliever as an undrafted free agent out of the University of Alabama back in 2000, and he proceeded to annilate the minor leagues over the next 8+ seasons. He struck out 719 batters and allowed just 471 hits in 590 IP thanks to his quirky sidearm delivery, although he struggled in three cups of coffee with the Yanks. Many statheads clamored for him to be called up at a time when the Yanks' bullpen was struggling, and there was even a website dedicated to the cause. Alas, Colter's career came to end after 2008, and he's since moved on to bigger and better things.
Nowadays, Bean is a part owner and instructor at the Bases Loaded Training Facility in Birmingham, Alabama.  The facility is over 20,000 square feet and has four full fields with an indoor training area, and has about 10,000 participants that take lessons, play in tournaments, the whole nine. Bases Loaded was founded by Jeff Segar, another ex-Yankee farmhand drafted in 2000, and it continues to expand.
Bean may or may not have received a fair shot at the big leagues, but most sidearming righties tend to dominate the minors before getting exposed in the big leagues. Very few manage to have a significant Major League career, but it looks like Colter found something to keep himself occupied after his playing days were over.
(h/t RABer Eric Sanlnocencio)
Photo Credit: FCB