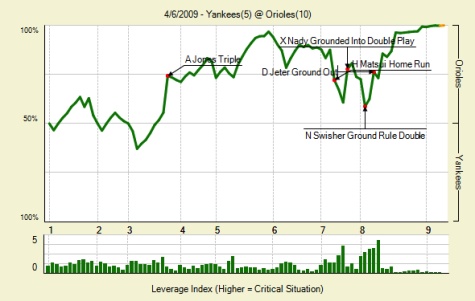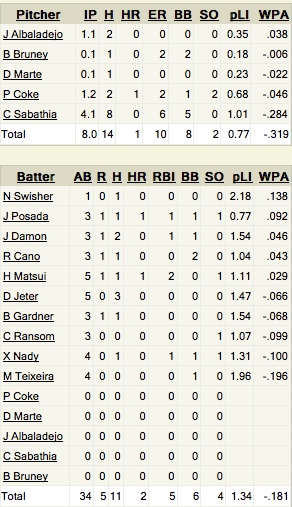 In case you're wondering what in tarnation that graph and those numbers mean, you can check out this article for a damn fine explanation. The quick, quick version: it's called Win Probability Added (WPA). It uses historical data to determine how important each game situation is to the ultimate outcome. For instance, it looks at all situations where, say, the home team has a runner on second and no outs in the bottom of the 7th while up by three runs. Using data from the game's past, it can determine how many times a team in that situation went on to win that particular game. Then, say, the next hitter singles and drives home the runner. The situation changes to runner on first, no outs, bottom of the seventh, up four runs. That win probability will be higher than the previous scenario, so the batter is credited with the positive change.
The bars under the graph represent the Leverage Index. This is, quite simply, how important that particular at bat was. It represents the swing in the most successful play and the least successful play.
Check out the play log sorted by WPA change. It was easy for everyone to determine the two plays which cost the Yanks the most: the Xavier Nady double play and the Derek Jeter groundout. The latter is a shame, of course, because Jeter had such a good game otherwise. The third, though, might not have registered as having been as important as other plays, but when Mark Teixeira reached on a fielder's choice in the eighth inning, the loss of the inning was apparently devastating. As you can see from the Leverage Index, it was an important situation, so losing the out there was big.
While the Yanks dominated the negative end of the WPA chart, they also had a number of enormously positive contributions. Specifically, the Matsui homer, the Swisher double, the Jeter single in the third, the Nady double, and Cano's seventh-inning single were of great importance to the team. What's strange, you might see, is that Jorge Posada's 7th inning walk was more important than his sixth-inning home run. This is because it came with the team down 6-1, so it didn't do much at the time. It did build the foundation, though, for the Yanks coming back to within 6-5 before blowing it.
WPA isn't going to give you a perfect measure of a player's skill and abilities, but it does provide a narrative for the game. We know that Tex's 8th inning grounder was devastating, and we know that Matsui's homer was nearly a game-changer. This is to say that WPA is interesting, even if it doesn't give us a further insight into skill and ability.