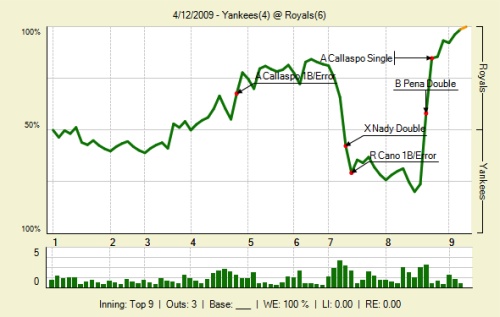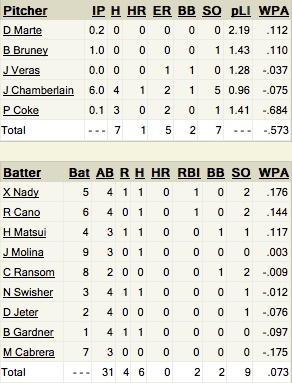 Royals 6, Yankees 4
What is this nerdy graph?
Today, goat is spelled C-O-K-E. His -.684 WPA is among the worst I've seen since starting to follow the stat in 2006. The worst part is, as Ben noted earlier, is that Coke probably shouldn't have been in the game at all. Joe Girardi is not Tony LaRussa, nor should we want him to emulate the second-longest-tenured manager in the majors. Not that LaRussa's unique bullpen strategies aren't good; it's that they should stay just that–unique.
Like all games, it takes a team effort to lose and this one wasn't all on Phil Coke. Nick Swisher's error in the fourth cost the team plenty. Not only did it put KC up 2-1, but it led to John Buck's run-scoring single. The error was -.125 WPA and the Buck single was -.101, so that's -.226. Gardner's double play in the sixth cost the team -.107, and Melky's two DPs added up to -.160.
Most surprisingly, Joba's WPA was in the negative, despite his leaving the game with a lead — and that he only allowed one earned run. But because of the way WPA scores these things, apparently the Swisher error was actually charged to Joba. Again, if the WPA spreadsheet worked on my Excel for Mac, I would have scored that as a negative for Swisher and not Joba, leaving Joba with a .050 WPA for the game and Swisher with -.137. The subsequent Buck single was all Joba, whether he should have been out of the inning or not.
Yes, this was a tough game to stomach — always is when victory is in sight and it never comes. However, as we like to say, it's just one game of 162. There are still 156 games in which the Yanks can steal a victory in the manner the Royals did today. If they do that a couple times and manage to hold their leads, they'll be in good shape. For the good teams, these things have a tendency to even out.