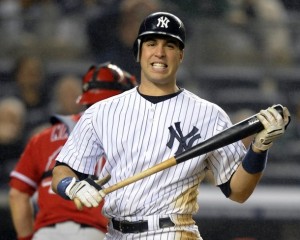 We all knew Mark Teixeira wasn't going to set the world on fire in April, but I don't think we expected this. Tex is hitting just .200-.367-.371 and heard a nice chorus of boos last night after grounding into a rally killing double play and striking out looking with the bases juiced and two outs. He has just one extra base hit in his last 51 plate appearances, and that was last night's double. Luckily Tex hasn't been a total drain on the offense because of his 17 walks (third in the AL), although the Yanks aren't shelling out $20M this season for something Marco Scutaro can do.
Now that the calendar has rolled over to May, it's time for Tex to start heating up and being the player everyone knows he can be. I'm not asking for .350-.450-.650, but .280-.370-.530 (roughly his career line) would be nice. The Yanks have scored the fourth most runs in baseball this year; just imagine what it'll be like once Tex starts hitting and A-Rod comes back.
The lineup:
Jeter, SS
Damon, LF
Teixeira, 1B
Matsui, DH
Cano, 2B
Posada, C
Swisher, RF
Melky, CF
Pena, 3B
And on the mound, the Crazy Boring Old Texan, Andy Pettitte.
Photo Credit: Reuters Pictures