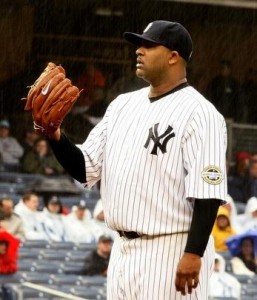 So, what can the team do to improve upon it's best game of the season? Well, for starters, CC Sabathia could pitch like he did in his last start in Detroit, when he was saddled with one of those yucky complete game losses. Sabathia was outstanding despite the L, allowing just three hits and one run outside of the three run sixth inning. Hopefully we get more of the same this afternoon.
Sabathia will be opposed by 30-year rookie Matt Palmer, a righty journeyman that go this first taste of the big leagues last year with the Giants. He'll be making his second start of the season. That usually spells disaster for the Yanks, but it hasn't so far this year.
Nick Swisher out of today's lineup after being plunked in the back of the elbow yesterday, but thankfully he says he's okay and is just a little sore. Jorge Posada is also out of the lineup because he's caught the last three games and it's a day game after a night game. No need to burn him out this early in the year. Here's the lineup:
Jeter, SS
Damon, LF
Teixeira, 1B
Matsui, DH
Cano, 2B
Melky, RF
Molina, C
Pena, 3B
Gardner, CF
And on the mound, the Nightmare from Norcal, CC Sabathia.
Photo Credit: Getty Images