The linear nature of a baseball game makes it ripe for narration. With each passing inning there are fewer chances to score, making the late innings seem more important than the earlier ones. Yet when you see the forest for the trees, it doesn't much matter when a team scores its runs. A run in the first is worth exactly as much as a run in the ninth, even if the power of narration makes us sometimes believe otherwise.
Jay at Fack Youk tackled this topic a few days ago, after Saturday's game in which CC Sabathia pitched well through six, but faltered in the seventh. The Yanks lost the game 8-4, though when you look at the WPA graph it doesn't seem all that bad.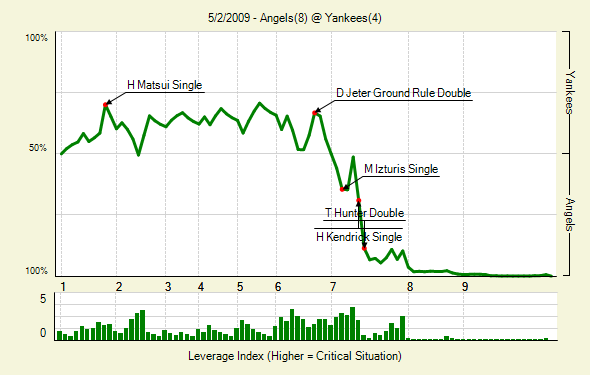 The WPA falls off a cliff in the seventh, but up to that point it's a relatively even affair. Best of all, as is its intent, the chart plays out the narrative unfolding of the game. Perhaps it doesn't capture the sense of hope many fans felt when the Yanks rallied in the ninth, but when we peel off the fan's blinders, most of us understand that the chances of a comeback were really as miniscule as the chart indicates.
Compare that to last night's game, which had a closer score: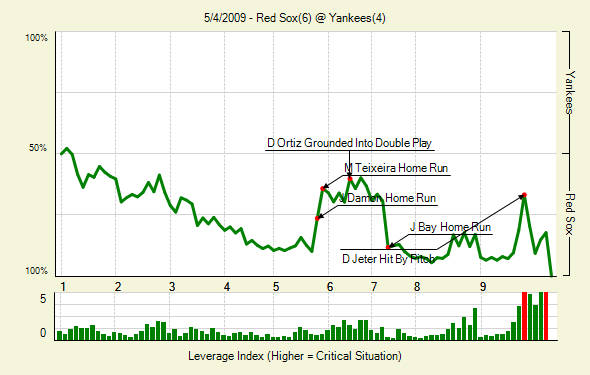 The Yankees lost by only two runs, but the chart makes it look far worse. That's because Boston jumped out early, scoring in each of the first four innings. This gradually tilted the win expectancy in their favor, until it was at 89.9 percent when Derek Jeter struck out looking for the second out of the fifth. The win expectancy wasn't that low on Saturday until Torii Hunter doubled in the seventh.
Here we have two games which had the end result of the Yankees losing by a few runs, yet the WPA charts look very different. Since WPA is based on historical data, we can see that teams that get behind early have a tough time coming back. That makes it frustrating for fans, as each inning chips away at a team's chances of coming back. On the other hand, an even game through six or seven innings can be easier on the nerves at the time, but when you have a game like Saturday fans can feel just like the WPA chart: like falling off a cliff.
That's not to say one way is better. A loss is a loss, and despite the narrative value of WPA charts, a run is a run. It's just interesting to see how similarly-scored games unfold. One way, it seems, causes heartburn while the other causes heartbreak. I don't think either is preferable.