One of the early-season concerns regarding Mariano Rivera was his reduced velocity. Coming off shoulder surgery, this was not a good sign. Sure, Mo needed to build arm strength and get used to the day to day activities of a relief pitcher, but at what point does the fanbase start to worry?
If anyone had any concerns, yesterday should have alleviated them. Gone were the 89-90 mph fastballs we saw in April and early May. In their stead were 92-93 mph versions, the ones we've grown used to seeing over the years. Only one pitch registered below 92 mph (91 mph), and two pitches hit 94 mph. In other words, as in many seasons past, the reports of Mo's demise have been greatly exaggerated.
Here's the leadoff batter from Mo's appearance Thursday night vs. the leadoff batter yesterday: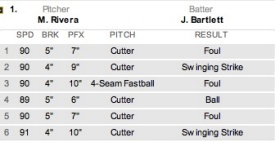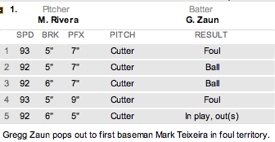 So things seem to be back in order. At the end of last year, when he was saving Mike Mussina's 20th win, Mo was hitting 94-95, but the 2 mph difference isn't really a concern now. Nevermind that after a few more appearances he could be hitting that again. But when you have command like Mo, you can succeed even if you're pitching 89-91.
Part of the reason people grew concerned with Mo this year isn't only because of his shoulder surgery. Since 2004 or 2005 we've had an annual Mo scare, where he pitches poorly for a stretch, usually early on, and people wonder if this is finally the year where he becomes human. That did not happen last year. He had a poor stretch, but it was only about two games, and those were easy to overlook considering his dominance before and after. This amplified things a bit this year, especially because two of his blown saves came against division rivals. It looks like things are reverting to normal, which is not good news for the rest of the league.