Last night, CC Sabathia showed the Yankees and their fans exactly what he was capable of. After a month of starts that were nothing more than adequete, Sabathia shutout the Orioles in impressive fashion, retiring twenty-three of twenty-four at one point. He recorded the final three outs in the ninth on strikeouts, then followed it up with a roar that announced to everyone that the real CC Sabathia had finally arrived.
But what made Sabathia so much more effective last night than his Opening Day assignment? Since both starts were in Baltimore, we can take a look at Sabathia's stuff through Pitch f/x without having to worry about slight differences in the PFX cameras. Let's start off with Sabathia's pitch selection (remember to click on any graph in this post for a larger view):

The two outings are similar, except that Sabathia broke out the changeup more often last night. Back in April he was basically a two pitch pitcher, throwing either his fastball or slider 87% of the time. That dropped to 80.3% last night. Half of Sabathia's eight strikesouts came on changeups, evidence that the pitch was keeping O's hitters off balance.
After the jump, we'll take a quick look at Sabathia's individual pitches.
Fastballs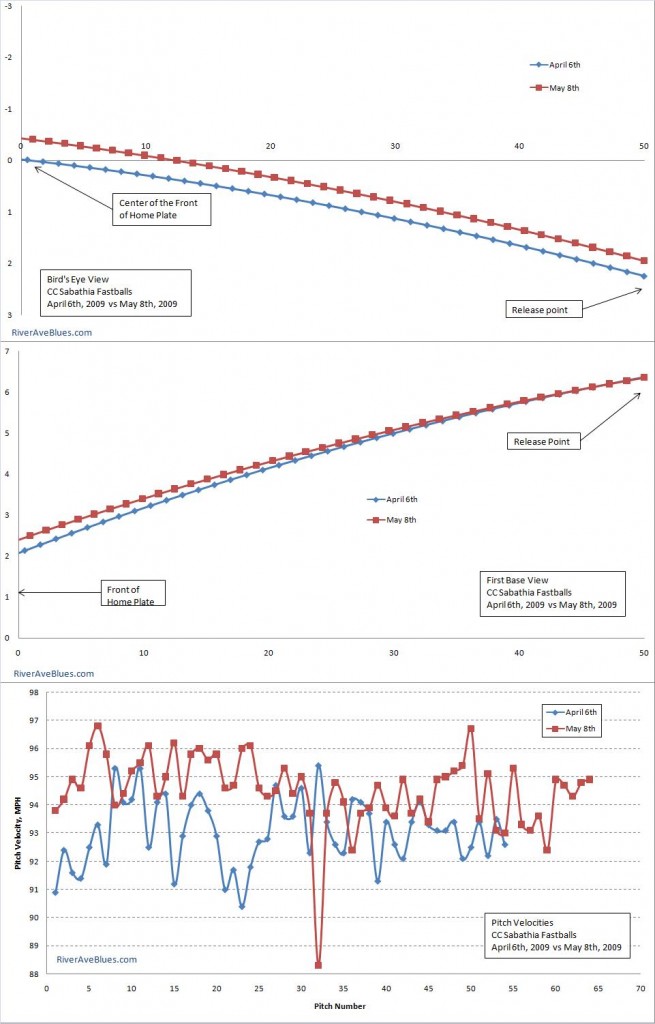 The most noticeable difference between the fastball Sabathia was unleashing last night and the one he was working with last month is the velocity. On average, the heater came in at 94.5 mph last night, compared to 93.0 last month. Several pitches registered at or above 96 mph last night, but just one pitch came within half a mile an hour of that mark on Opening Day.
Despite that extra velocity, the thing that made Sabathia so much more effective last night than last month was the way he pounded the strike zone with his fastball. Of the 64 fastballs he threw last night, 41 were strikes, or 64.0%. On Opening Day, just 29 of 54 fastballs were strikes, or 53.7%. That's a huge, huge difference.
Sliders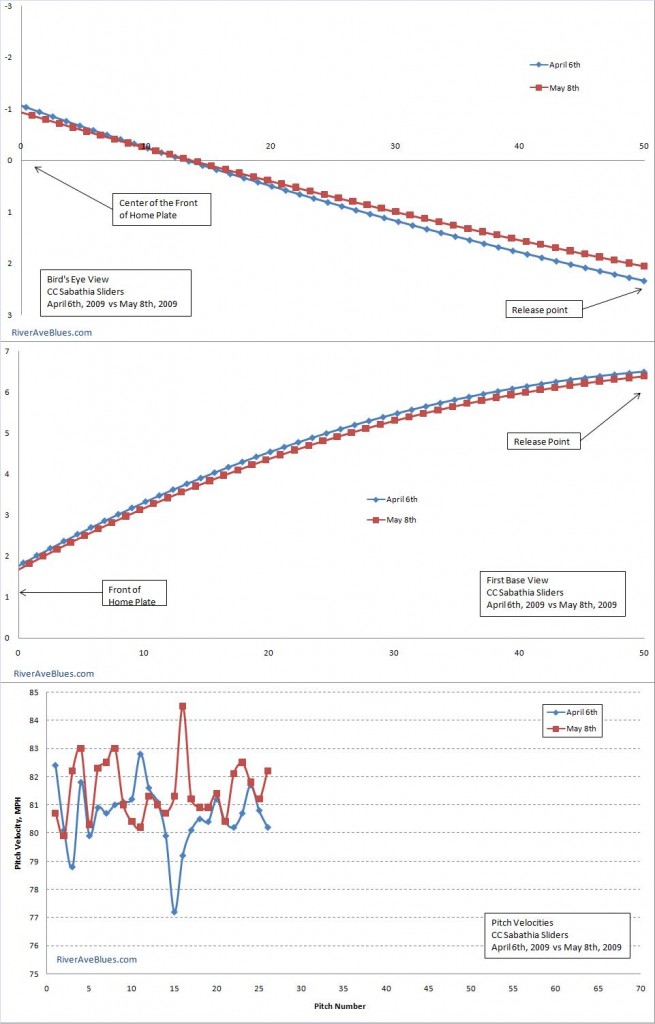 The sliders was a little less sweepy last night, as you can see from the bird's eye view. Like the fastball, Sabathia's slider also came in a little bit harder last night.
Changeups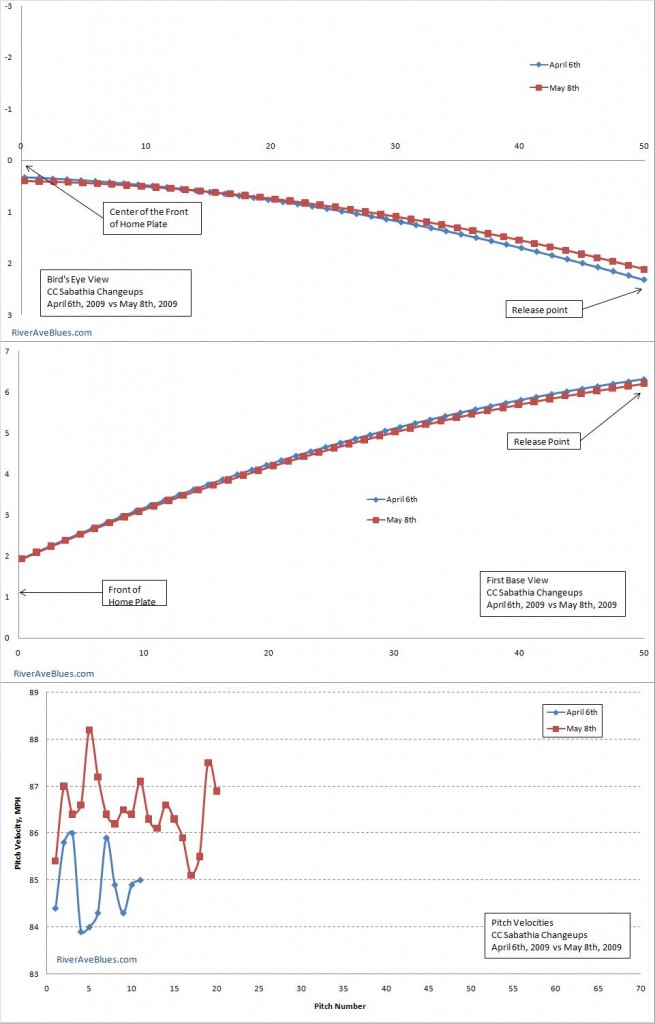 Pretty much a repeat of the above here, the changeup looks the same, just had a little more oomph behind it.
So in conclusion, there were three major differences between the CC Sabathia we saw last night and the Sabathia that showed up on Opening Day:
Velocity: Everything was harder last night, as Sabathia touched 97 with his fastball. Exceptional velo for anyone, let alone a southpaw.
More Changeups: He didn't throw that many more than he had last night, but every little bit counts.
Strikes: Sabathia was very aggressive in the zone last night, particularly with his fastball.
Short but sweet post, since we didn't have to look very hard to see what made Sabathia so effective last night. I look forward to many more outings like this in the future.