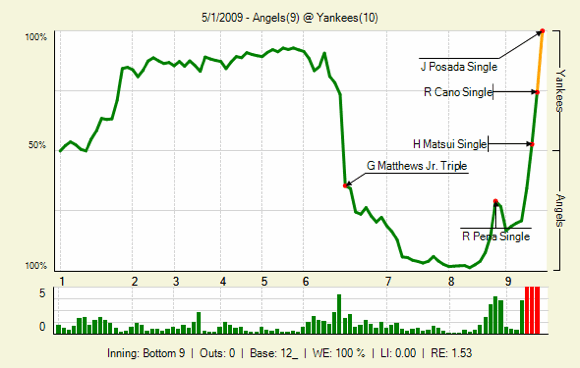 The WPA graph from last night's game, via FanGraphs, is one roller coaster of a baseball game. It certainly mirrors my up-and-down emotions from the day, but there's more to this story than just exciting baseball.
In fact, this story starts last weekend in Boston. In back-to-back games last weekend, the Yankees had nearly wrapped up their games, according to WPA, only to see everything fall apart. On Friday, in the top of the 9th with a threat brewing, the Yanks' win probability hit 96.8 percent. In the bottom of the inning with a two outs a runner on, the Yanks win the game 94.7 percent of the time. Those hopes ended with a Jason Bay home run in the 9th, and a Kevin Youkilis blast two innings later.
On Saturday, the Yanks suffered through a similar experience, albeit earlier in the game. Up 6-0 in the 4th, the Yanks' win expectancy stood at 94.1 percent. After A.J. Burnett and the bullpen imploded, though, the time found itself on the wrong end of an ugly 16-11 game.
Friday's story was a bit different. While the Yanks jumped out to a quick start, by the time the Angels took a 9-4 lead in the 7th, the Yanks' hopes had all but dimmed. Their win expectancy after the Angels plated their ninth run was just 3.3 percent. The Yanks fought back with four in the 8th and two in the 9th to win. They stole victory from the precipice of defeat.
This is, then, the perfect example of the way things even out over a 162-game season. Last weekend, Yankee fans were collectively despondent over the two lost opportunities. Last night, the Yanks got one of those back. It may seem less urgent because the Yanks and Red Sox weren't locked in battle, but as the Sox did last Friday, the Yanks won a game last night that, in my cases, they just don't win.
With Boston's loss in Tampa, the Yanks and Sox are separated by just one game. Considering the Sox's 11-game winning streak and the Yanks' uneven play so far, I'll gladly take it.