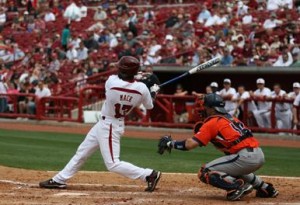 After three long days and 1,521 selections, the 2009 MLB Draft came to an end ten days ago. Unlike previous years when the Yankees shot for the moon with their first pick and took a player who fell because of exorbitant bonus demands, this year they zeroed in on a target and drafted him even though there were sexier names left on the board. We heard plenty of rumblings that the Yanks were operating on a budget this year, but by the looks of it, the budget wasn't restrictive at all. They still landed tons of promising players.
As fans, we keep looking back at the 2006 draft crop and expect that every year. The Yanks picked an incredible amount of talent that year, but in reality that haul was far more the exception than the norm. Four players from that class alone have reached the Bigs for the Yanks, while just five players reached the majors from the '03, '04 and '05 classes combined.
Scouting director Damon Oppenheimer stayed true to form this year and went hard after college players, especially on the mound. Take a quick gander at this graph showing the breakdown of the players he's taken in his five drafts for the Yanks. Lots of college guys, huh? I prefer high school players, but there's nothing wrong with going after college players as long as the goal isn't to get a quick return on the investment.
Note: Getting back to the graph, very few high school first baseman are drafted because they're already limited to the worst case position. Guys like Prince Fielder and Derrek Lee are rare birds. Second baseman usually aren't drafted for similar reasons. Almost all big league second baseman are failed shortstops.
It remains to be seen what kind of impact this draft class will have for the Yankees, but that doesn't mean we can't take a second to recap all the action. You can see all of the team's picks here.
Best Prospects
The two best prospects the Yankees picked up in this year's draft were their two first choices: CF Slade Heathcott and C JR Murphy. I profiled those two on draft day, so click the links to learn more about them. Aside from Heathcott and Murphy, the player with the best combination of present ability, upside, and probability is 14th rounder Graham Stoneburner. The righthander fell because he has extra leverage as a draft eligible sophomore, but also because he's a bit on the small side at 6′-0″, 185 lbs. Featuring a power arm sporting a legit mid-90's fastball with two good offspeed offerings and strong command, Stoneburner projects as mid-rotation starter or an elite reliever if things come together.
Righthander Sean Black (7th round) and lefthander Gavin Brooks (9) were elite prospects coming out of high school in 2006, but plateaued in college and didn't take that step forward. Black has shown mid-90's velocity in the past with a put-away curveball, but he struggles to maintain his delivery which leads to inconsistency. Brooks is another hard thrower, but he's been held back by injury and control problems. He has, however, tremendous upside and top-of-rotation ability when right. Both players can fall back on being shutdown relievers if starting doesn't work out in the long run.
Outside of Heathcott and Murphy, outfielder DeAngelo Mack (13) is the most intriguing position player the Yanks selected primarily because he shows average tools across the board with much improved plate discipline. Third baseman Rob Lyerly (6) has a plus hit tool but needs to prove himself with a wood bat. He could end up in left field down the road.
Adding Depth
Like it or not, the draft is more about quantity than quality. As much as we want them to, the Yanks can't to land players with star potential with every pick without having to take a second and third mortgage out on the New Stadium. Pitchers like Adam Warren (4) and Tyler Lyons (10) have faced the best competition college baseball has to offer for the last several years and should zoom up the ladder in short order. Vanderbilt's Caleb Cotham (5) is another draft eligible sophomore, but unlike Stoneburner he's primarily a sinker-slider guy with a heavy ball and two other offspeed offerings.
Outfielder Neil Medchill (11) is another guy that's faced top notch competition and should have no problems as he advances. Former USC utility guy Hector Rabago (18) offers a ton of versatility and is converting to catcher full-time thanks to his premium throwing arm. Shortstops Ben Soignier (22) and Danny Black (42) are polished players who should shore up a key position.
Lotto Tickets
I've been using that term for years before I started blogging, and I'm not sure if I can take credit for coining it or if I heard it in passing somewhere and just don't remember it. Either way, it basically refers to a player that you don't expect to get anything out of, but if he pays off, he could pay off in a big way. Perhaps the best example from this draft class is southpaw Sam Elam (8), who flashes tremendous stuff but has been limited to just 76 IP in four years at Notre Dame because of extreme control issues (64 BB).
California prep righthander Chad Thompson (17) had Tommy John surgery recently and will be out until next spring. He has tremendous upside packed into his 6′-8″ frame, but is very raw and will need considerable development time if he decides to pass on a commitment to Arizona State. Fellow West Coaster Brett Gerritse (12) has a big projectable frame and two solid offspeed offerings, but a maladroit delivery that limits velocity and command. Committed to Long Beach State, he has frontline starter potential if he smooths out his delivery and makes good on some of that projection.
The ultimate lotto ticket pick is 48th rounder Pat White, who hasn't played baseball since high school and is currently listed as the third-string quarterback on the Miami Dolphins' roster after a celebrated career at West Virginia. Since he's out of college eligibility, the signing deadline does not apply to him, so the Yanks can sit back and let White decide if he'd rather continue his football career or pursue one on the diamond. He's a premium athlete but needs to learn how to translate those physical gifts into baseball skills.
Other players, like shortstop Steve Bruno (26), outfielder Andrew Aplin (33), and righties Kyle McKenzie (30) and Cody Stiles (39) were all drafted late and aren't expected to sign, but the Yanks took a shot and if they get anything out them it's just icing on the cake.
* * *
It's ridiculously early to say anything of substance about this draft class, but on the surface it appears the Yanks have landed some interesting arms with upside and solid organizational depth. They took some much-needed position players and lefthanded arms while still adding upside and depth.
Photo Credit: Alan Tauber, The Daily Gamecock