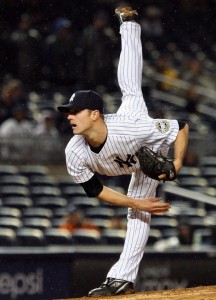 I post three personal prospect lists a year, but the pre-draft list is by far my least favorite. There hasn't been enough time for anything to really change from my Preseason Top 30, except maybe for a few injuries and a graduation or two. However, I do like this list because it shows me how much my opinion of some players have changed in a relatively short amount of time. Obviously most of that is performance driven, but we also have to consider other factors like health and consistency. Joe Morgan would be proud.
Anyway, the top five prospects are the same as the preseason list, but you'll notice they've been shuffled around a bit. Unlike most instances when players drop because they've been disappointing, this movement is due to a few players making improvements and having tremendous seasons. Two players have graduated to the bigs from my preseason list early in the season (Brett Gardner & Al Aceves), and four others have dropped off the list entirely for various reasons (Carmen Angelini, Humberto Sanchez, Brandon Laird & Steven Jackson).
Keep in mind that there's really not much difference between prospect #3 and prospect #6, or prospect #11 and prospect #22. It's just a matter of preference, so don't get too worked up if one of your favorite prospects is lower than you expected. Anywho, let's get to it…
Jesus Montero, C: destroyed the pitcher friendly Florida State League, and he's now playing in AA as a teenager
Austin Jackson, CF: hasn't shown much power yet and he'll always be prone to the strikeout, but his walk rate just keeps getting better
Zach McAllister, RHP: more than holding his own as a 21-yr old in AA, and it's not just because of the pitcher haven known as Waterfront Park (1.40 ERA on the road)
Andrew Brackman, RHP: he's passed the "just stay healthy" portion of the season, now he needs to start fufilling some of that promise
Mark Melancon, RHP: low walks, high strikeouts, high groundballs, lots to like, he just needs to be challenged now
Dellin Betances, RHP: struggled to maintain the impovements he made in the second half last year, then he went down with a forearm injury
Phil Coke, LHP: he is what he is, a legit ML reliever that'll make you nervous in big spots from time to time
Austin Romine, C: rock solid, and he'll finally get a chance to get out from under Montero's shadow
Jeremy Bleich, LHP: good K/BB, but I'm a bit worried because he doesn't miss many bats
David Robertson, RHP: he's done all he can in the minors, now he just has to take advantage of his big league opportunities
Manny Banuelos, LHP: tremendous strikeout rate (9.78 Kper9) and good walk rate (2.77 BBper9), lots to like here
Wilkins DeLaRosa, LHP: ditto Banuelos' comment, except with a 9.70 Kper9 & 3.42 BBper9
Jairo Heredia, RHP: hasn't pitched this year because of "soreness and tightness," but all the tools are there for him to be very successful
George Kontos, RHP: stuff is finally translating into consistent results, he's pitched his way into big league consideration
Mike Dunn, LHP: a two-outing hiccup in early May skewed his numbers, but he's dominating both RHB & LHB with a super high K rate (11.53 Kper9)
Chris Garcia, RHP: flashing the same outstanding stuff, but as usual it's just a question of health
Bradley Suttle, 3B: hasn't played this year because of offseason shoulder surgery, doesn't sound like he'll be back anytime soon
Brett Marshall, RHP: holding his own in his first full professional season, needs to do a better job against RHB though
Arodys Vizcaino, RHP: big time stuff will be unleashed on the short season NY-Penn League later this month
Frankie Cervelli, C: filled in admirably while Jorge Posada was out, but he really needs regular at-bats in the minors
David Adams, 2B: showing good contact skills and plate discipline, in line for a midseason promotion
DJ Mitchell, RHP: burst on the scene in a big way, but has to do better against LHB to keep it up
Ramiro Pena, IF: big league defense, but another guy who should be getting regular at-bats in the minors
Juan Miranda, 1B: big time improvements against LHP bode well for his future as a trade bait
Kevin Russo, IF: struggling with some various leg injuries, but he's flashed the same offensive skills he showed during his breakout year last year
Ivan Nova, RHP: save for one bad outing in early May, it looks like he's finally having that breakout year we've all been waiting for
Ryan Pope, RHP: having an okay year in AA, but a move to the pen may be in order

Garrison Lassiter, 3B: keeping his head above water in full season ball, but he's been on the DL for over a month now with a mystery injury
Jorge Vazquez, 1B: has tremendous power, but he's got an odd reverse platoon split that needs fixin'
Jon Albaladejo, RHP: I still believe he can become a solid ML middle reliever
In my opinion, there are only two players in this draft class that would unquestionably become the Yanks' top prospect if the team managed to draft and sign them: Stephen Strasburg & Dustin Ackley. Obviously, there's basically no chance either player makes it out of the top three picks. There's about three or four others that would garner consideration for the top spot, but I'd have to think long and hard about it. Not to mention do more research.
The second half of this midseason prospect ranking update comes after the August 15th signing period, when we know who exactly the Yanks have added to the organization.
Photo Credit: Jim McIsaac, Getty Images