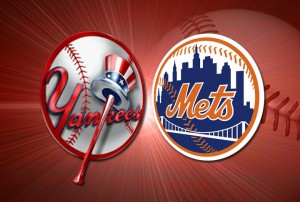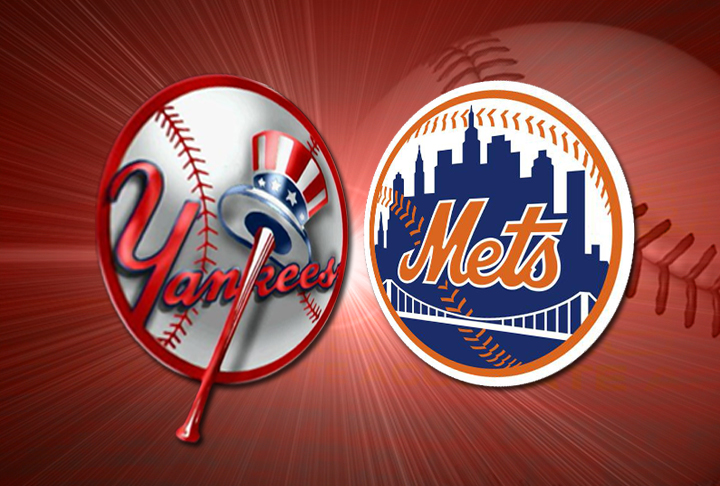 The 13th Annual Subway Series kicks off tonight, as the second place Mets come to the Bronx to take on the second place Yankees. The Yanks are 37-29 all-time against their crosstown rivals in interleague play, 20-13 at home. This year they bring a 34-26 season record into the series while the Mets come in at 31-27. Each team comes in limping, as the Yanks were just swept in heartbreaking fashion up in Fenway, while the Mets just lost two extra inning games at home to the Phillies.
In honor of this year's renewal of the Subway Series, let's take a look at how each squad compares to each other on a position by position basis.
Starting Pitchers this Weekend
Friday: Joba Chamberlain vs. Livan Hernandez
These two are sporting identical WHIPs (1.40) and similar ERA's (3.79 vs. 3.88), but the difference is that Joba is still cutting his teeth at this level while Livan is enjoying his best year since 2004. Throw in Joba's ability to actually strike guys out (8.3 K/9 vs. Livan's 5.5), and I think we have a winner. Advantage: Yanks
Saturday: Andy Pettitte vs. TBA
With John Maine hitting the DL, the Mets aren't sure who will start tomorrow. It could be prospect Jon Niese (6.57 ERA in 5 career starts), AAA starter Nelson Figueroa (5.15 ERA in 40 career starts), or swingman Fernando Nieve out of the pen (4.20 ERA in 11 career starts). Whoever they decide to throw out there will be inferior to Pettitte, despite his highwire act. Advantage: Yanks
Sunday: AJ Burnett vs. Johan Santana
Santana's last five starts: 4.64 ERA, .848 OPS against. Burnett's last five starts: 4.13 ERA, .839 OPS against. Just sayin'. Advantage: Mets
Everyday Lineup
Catcher: Jorge Posada vs. Omir Santos
Ex-Yankee farmhand Santos did a tremendous job filling in while the Mets' other catchers were injured, and has yet to relinquish the starting job. Despite that, he's got a .298 OBP and a 90 OPS+ Posada's sitting at .380 and 151, respectively. Advantage: Yankees
First Base: Mark Teixera vs. Fernando Tatis
The Mets ran into some bad luck, as Carlos Delgado went down with hip surgery after putting up a .914 OPS in 26 games. After a brilliant comeback last season, Tatis has filled in for Delgado with a .732 OPS, 2 homers, 9 XBH and 12 RBI this year. Texiera has a .745 SLG with 4 homers, 11 XBH and 13 RBI. In his last 12 games. Next. Advantage: Yanks
Second Base: Robinson Cano vs. Luis Castillo
The poster child for ill-advised contracts, Castillo is actually having himself a nice season right in line with his career averages. Of course that constitutes a 91 OPS+ and a -10.7 UZR/150 at the keystone corner. Robbie Cano is also having a year in line with his career averages, putting up a 107 OPS+ with a 1.3 UZR/150. It would be nice if he weren't hitting fifth, though. Advantage: Yanks
Shortstop: Derek Jeter vs. Alex Cora
Cora's .286 AVG and .385 OBP are right there with Jeter's .298 and .370 marks, but The Cap'n has more than a 50 point advantage in slugging. Jeter's also got him beat on defense, with a 6.4 UZR/150 compared to Cora's -35.7. I know Alex Cora wins games, but dude, it's Derek Jeter. Maybe if Jose Reyes was heathy, this would be a different story. Advantage: Yanks
Third Base: Alex Rodriguez vs. David Wright
Finally, we have ourselves a bit of a competition. Wright leads the lead in AVG (.362) and OBP (.458), and his .984 OPS is top ten in the NL. He's also sixth in the bigs with 17 steals. Show off. A-Rod's been back from his hip injury for over a month now, and even though he hasn't yet hit his stride, he's still fashioned a .393 OBP and a .458 SLG. We know A-Rod will be great soon enough, but Wright is great right now. Advantage: Mets
Left Field: Johnny Damon vs. Danny Murphy/Fernando Martinez
The Metsies generally run old buddy Gary Sheffield out to left, but since the series will be played in the Bronx, I imagine he'll be serving as DH. The Murphtinez Monster has managed a .234-.317-.341 line this year with Murphy doing most of the heavy lifting. Damon's hit .286-.361-.537 and is in the midst of the best offensive season of his career. Neither contingent has been anything special defensively in 2009, so let's call that part a draw. Advantage: Yanks
Center Field: Melky Cabrera vs. Carlos Beltran
Melky's riding his now annual post-April swoon, while Beltran is simply one of the greatest players in the game today, regardless of what Steve Phillips thinks. .341-.431-.561 with Gold Glove defense in center? I'll take two. Advantage: Mets
Right Field: Nick Swisher vs. Ryan Church
Boneheaded plays aside, Swisher has been tremendously productive at the plate this year, posting a .394 OBP with a .538 SLG. Church has been hampered by injuries as usual, but has a 1.103 OPS in an extremely small sample size since returning. Church is better than he's been, Swisher isn't as good as he's been, but both are quality players. Let's call this one … Advantage: Push
Designated Hitter: Hideki Matsui vs. Gary Sheffield
Matsui's one of those guys that just when you think he's dead, he goes on a tear. He's hit .260-.350-.475 compared to Sheff's .250-.380-.427 output, so they're right in line with each other. Luckily for Godzilla, defense doesn't count at DH. Advantage: Push
Reserves
Bench: Frankie Cervelli, Angel Berroa, Ramiro Pena, Brett Gardner vs. Brian Schneider, Wilson Valdez, Danny Murphy/Fernando Martinez, Jeremy Reed
The nature of the beast calls for the Mets to have a more usable bench than the Yanks, although Gardner's proven to be somewhat useful as a reserve. But still … Advantage: Mets
Setup Crew: Al Aceves, Phil Coke, Phil Hughes, David Robertson, Brett Tomko, Jose Veras vs. Pedro Feliciano, Sean Green, Fernando Nieve, Bobby Parnell, Brian Stokes, Ken Takahashi
It's pretty cool how the two pens are constructed in basically the same way, with a young phenom (Hughes & Parnell), veteran swingman (Tomko & Stokes), kinda low leverage but sometimes high leverage middle guy (Robertson & Green), pitchability multi-inning guy (Aceves & Takahashi), hard throwing wildcard (Veras & Nieve) and, of course, the LOOGY (Coke & Feliciano). The Mets' non-closer bullpen ERA is 3.44, but the Yanks' is 4.87. Just imagine if JJ Putz wasn't so craptactular/hurt. Advantage: Mets
Closer: Mariano Rivera vs. Francisco Rodriguez
K-Rod's been everything the Mets could have hoped for and more, nailing down every save and pitching to a 0.61 ERA. Mo's struggles have been well documented, but he's still the man and gets the job done. Call me biased, but I'm not willing to declare Mo dead yet. I'm not going any lower than … Advantage: Push
* * *
So I have the final tally at seven for the Yanks, five for the Mets, and three draws. Given all the Mets' injuries this year, I don't think there's any question that the Yankees are the best team in town right now. Everything lines up nicely for them, so hopefully they can pull out a pair of wins, assuming Santana is an automatic loss.
Photo Credit: CNYcentral.com