It was common, at the end of May and beginning of June, to hear sportswriters, bloggers included, marvel at how well Mark Teixeira had been hitting since Alex Rodriguez returned to the lineup. True, some made completely unsubstantiated, and in some cases completely false, claims as to why Tex heated up, but despite the platitudes he was hitting the cover off the ball. Still is. The Yankees, the past two games aside, have played remarkably well since then, and much of it is owed to Teixeira shaking his run-of-the-mill early-season slump. However, the team might have looked even better if not for a couple of slumping starters.
As stated in yesterday's game thread, Melky hasn't exactly been the hottest hitter since the calendar flipped to May (or, since the season started late, one month into the season). For now we'll leave him alone. This one is all about Robinson Cano.
Early in the season, Cano was rolling. This came as a joy to Yanks fans, who had seem him stumble out of the gate last year only to partially recover in the second half. It was a long, infuriating slump that no one wants to relive. But he started to alleviate the fears of a repeat by hitting .378/.410/.592 from April 6 through May 1. Robust numbers if there ever were any.
Meanwhile, Mark Teixeira, a notorious slow starter, drew the ire of some Yankees fans. Through May 1 he was hitting a paltry .189/.358/.351. Some fans thought it appropriate to boo him, despite our knowledge that he's a slow starter. True, he was hitting a bit worse than normal. Over his career he's hit .251/.349/.433 in April, and that's counting his slow start in 2009. So yes, he starts slow, but usually not this slow.
Thing started to change that first week of May for Cano. He went 4 for 26 (.154) that week with a double and a walk. Little did we know that it would be a sign of things to come. Since May 1 he's hit .248/.282/.396. That one week hurt him considerably, as he's hitting .258/.291/.422 since A-Rod's return. Those aren't good numbers by any stretch — though the power numbers are certainly attractive (7 doubles, 1 triple, 4 home runs). He's also walked six times since that point, which is good for him but second-lowest among those with over 50 at bats in that span (only Melky is worse…and Gardner had 8 BB in 55 AB during that span).
Meanwhile, Mark Teixeira was busy turning his season around. He, too, hit poorly during that first week of May, sitting at .192/.250/.462. Again, the power is appreciated, but it doesn't make up for a horrible BA and an equally despicable OBA. Then A-Rod returned, and we all know the story from there. Teixeira has absolutely hit the cover off the ball, to a line of .361/.436/.811.
If only Cano had settled down, rather than falling off a cliff, the Yanks might be even better at this point. Hard to imagine, but it's true. In fact, this team is rarely firign on all cylinders. Just look at the entire team, first from Opening Day to May 7, and then from May 7 through today.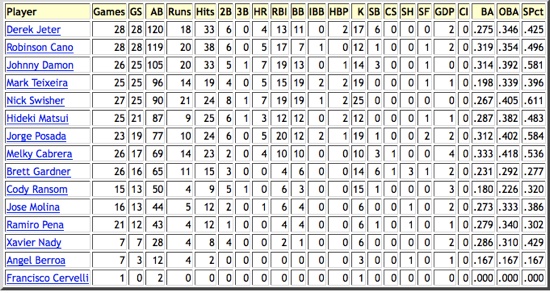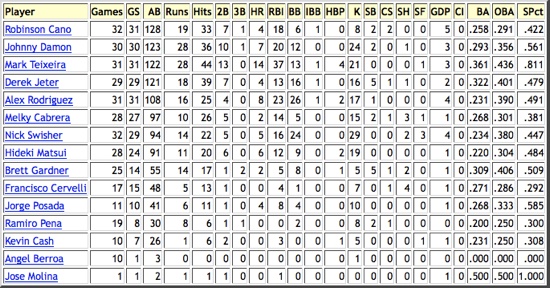 If Cano and Melky can get back to three quarters of where they were in April, this offense could be an absolute juggernaut. And that's something to look forward to.