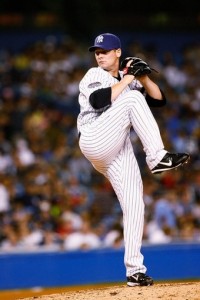 When the Yankees welcome setup man Brian Bruney back later today, it will be the first time they can go into a game knowing who will pitch the 8th inning in a close game in nearly two months. Well, I guess CC Sabathia counts every five days, but I digress. As much of an eyesore as the bullpen has been this season, Tyler Kepner points out that the Yankee relievers have quietly pulled it together in June thanks to the work of four men: David Robertson, Phil Hughes, Phil Coke and Al Aceves. They've combined to allow just 25 baserunners and 5 earned runs in 23 innings this month, striking out 23. Of those four, only Coke broke camp with the team out of Spring Training.
As I was wont to point out in April, the bullpen at the end of the year will look nothing like the bullpen that started it. Edwar Ramirez and Jon Albaladejo have been banished to the minor leagues in favor of Robertson and Hughes, kids with upside that can actually put a fastball by a hitter once in a while. Jose Veras has gone from trusted setup man to janitor (get it, mop up man? haha … okay fine I stole that one from Joe). Damaso Marte's injury thrust Al Aceves into high leverage spots, and Brett Tomko has been serviceable while keeping Bruney's seat warm (before Friday's meltdown he had a 2.53 ERA). As of this very moment, only three members of the Opening Day bullpen are still on the active roster: Mariano Rivera, Phil Coke, and the aforementioned Mr. Veras.
This isn't anything new either. Last year's Opening Day bullpen consisted of guys like Albaladejo, Billy Traber, LaTroy Hawkins, Kyle Farnsworth and Ross Ohlendorf. By the time September call-ups rolled around, Mo and Bruney were the only relievers left standing from the Opening Day squad. The year before that you had Mike Myers and Scott Proctor and Sean Henn start the year just beyond the right left-centerfield fence, none of them lasting the season. That's the beauty of not spending big money on volatile relievers: flexibility.
The 2009 bullpen has gotten progressively better each month as bodies were shifted in and out until the right mix was found. They went from a 6.46 ERA and a 1.51 WHIP in April to 4.04 & 1.39 in May to 3.29 & 1.17 in June. With Brian Bruney coming back today, expect those June numbers to get even better, because frankly the dude's been money since the start of last season. Yeah yeah yeah I know it's only 43.1 IP with two pretty serious injuries mixed in, but in those 43.1 innings he's allowed just 21 hits and struck out 46. He also cut his walk rate down to 3.7 BB/9, hardly eye popping, but worlds better than the 6.9 mark he put up in his three seasons prior to that.
As Joe pointed out yesterday, one of the current members of the bullpen will go bye bye to make room for Bruney. Bryan Hoch confirmed with Joe Girardi yesterday that will in fact be a pitcher-for-pitcher move, so any worries about the 13-man pitching staff should end. It would be absurd to option David Robertson given his work during his latest call-up (13.5 K/9, .472 OPS, SSS warning), and such a move would have me seriously questioning the front office's desire to field the best team. That leaves Tomko and Veras as the two candidates to go, and as bad as he's looked at times, Veras is ten years younger than Tomko. It really doesn't matter who they keep and who they cut, because whichever guy stays will be working super low leverage mop up innings anyway. Keep Veras, he's younger and has a better arm.
Earlier this season Brian Cashman and Joe Girardi repeated time and time again that they would ride it out and see if the bullpen corrects itself before doing anything drastic. While no one would be opposed to adding a Huston Street at the right price, the relief corps seem to finally be headed down the path towards effectiveness.
Photo Credit: Jarrett Baker, Getty Images