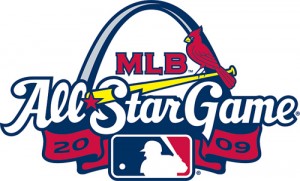 Last night's Homerun Derby was about as exciting as having your teeth pulled, so we can only hope tonight's game is a bit more fun to watch. Last year's 15-inning marathon was actually pretty entertaining, especially once Terry Francona and Clint Hurdle began to watch nervously as they tried to figure out what the hell they were going to do with the pitching staffs if the game kept going.
The American League has won every All-Star Game since 1996, save for that tie in Milwaukee a few years back. Looking over the rosters, it seems like we could be in for another AL win because of the quality and experience of the pitching and the depth on the bench. Remember, it's the reserves that usually decide this thing. The starting position players get their two at-bats and hit the showers. And you know, this game decides home field advantage in the World Series. It's dumb, but them's the rules.
Unfortunately, Evan Longoria has an infected finger and can't go tonight. He's been replaced on the roster by Chone Figgins. For shame, Longoria was one of the few players I actually wanted to see. Anyway, here's the starting lineups:
American League
1. Ichiro!, RF
2. Derek Jeter, SS
3. Joe Mauer, C
4. Mark Teixeira, 1B
5. Jason Bay, LF
6. Josh Hamilton, CF
7. Michael Young, 3B
8. Aaron Hill, 2B
9. Roy Halladay, SP
National League
1. Hanley Ramirez, SS
2. Chase Utley, 2B
3. Albert Pujols, 1B
4. Ryan Braun, RF
5. Raul Ibanez, LF
6. David Wright, 3B
7. Shane Victorino, CF
8. Yadier Molina, C
9. Tim Lincecum, SP
I'm not saying he belongs in the game, but I'll miss seeing A-Rod wear those funny white cleats. The game is supposed to start at 8pm, but you know first pitch won't be until 8:20 at the earliest after the starting lineups and all the unnecessary bells and whistles that'll be attached to this thing. Joe Buck and Tim McCarver have the call. Enjoy the game.