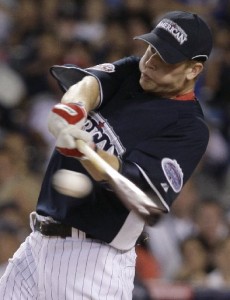 It's hard to believe the 2009 Homerun Derby is already upon us, it seems like we're just now coming down from the Josh Hamilton high of last year (no pun intended, I swears it). Ben and I were in the rightfield upper deck for that show, and it's hard to imagine anyone one-upping that anytime soon. It would be cool if someone did though.
Here are the eight participants, listed alphabetically because I have no idea what order they're going in.
American League
Nelson Cruz
Brandon Inge
Joe Mauer
Carlos Pena
National League
Adrian Gonzalez
Prince Fielder
Ryan Howard
Albert Pujols
Just so I can gloat later, my money's on Pena. Enjoy the Derby.
Photo Credit: Julie Jacobson, AP