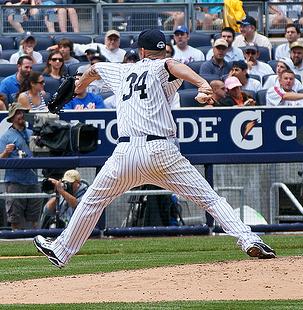 Last night, Joe Girardi sent AJ Burnett back out to the mound for the seventh inning even though his pitch count was already over 100 pitches (104 to be exact), and it wasn't the first time we've seen him extend his starting pitcher beyond a point we're not used to seeing. We're conditioned to accept that 100 pitches is the point where a pitcher loses effectiveness and is at greater risk for injury, and anytime we see one of the Yankees starters go beyond this point we all cringe a little.
As crazy as it sounds and as unexpected as it may be, Burnett has been an absolute horse for the Yanks this year. He's failed to pitch into the sixth inning just twice in twenty starts this year, and has gone into the seventh twelve times, including six of his last seven starts. CC Sabathia has been even more of a workhorse, pitching into the sixth in 19 of his 21 starts and into the seventh a staggering 17 times. He's failed to record at least 21 outs in a start just four times since the end of April.
As you would expect, both Sabathia and Burnett are up there in innings this year, checking in at 142.1 and 127.1 IP, respectively. While we're conditioned to look at innings as a measure of workload, we should be paying attention to the number of pitches thrown. Both guys rank in the top ten in the league in pitches thrown, as CC checks in at 2,210 pitches (4th most) and AJ at 2,115 (10th). Sabathia has thrown at least 105 pitches in 15 starts this year, Burnett 11 times.
The crew at Baseball Prospectus developed a stat called Pitcher Abuse Points (PAP), which is intended to measure … well … pitcher abuse. You can read a ton more about PAP here, but it's calculated by cubing each pitch a guy throws past 100 in a start, and just summing up the "points." So if Sabathia throws 105 pitches in a start, his PAP is 125 (five pitches cubed, or 5 x 5 x 5). Justin Verlander is the far and away the most abused pitcher in the game this season, checking in at 85,763 PAP. CC ranks 8th with 45,585 PAP, while AJ's 31,387 PAP is good for 17th. Here's the full PAP leaderboard for your viewing pleasure.
Throwing lots and lots of pitches is generally understood to be a bad thing, which it is. You want your pitchers to throw as few pitches as possible to limit the wear and tear on their shoulders. However, some pitches are worse than others, specifically pitches in stressful situations. If Burnett throws 30 pitches in an inning because he's allowed a couple of baserunners and the hitters have worked deep counts, it's far more taxing on his arm than if he threw those same 30 pitches spread over two quick and uneventful innings.
On the season, Sabathia has averaged 15.5 pitches per inning and Burnett 16.6. American League starters are averaging 16.4 pitches per inning this year, so CC's well short of that while AJ's just a bit over. In 21 starts, Sabathia has averaged more than 16.4 P/IP just eight times. It's not a coincidence that those are basically his eight worst and most stressful outings of the year, as he averaged 102.6 pitches thrown and just 5.5 innings in those starts.
As for Burnett, he also experienced eight games this year when he averaged more than 16.4 P/IP, but he's made one fewer start than Sabathia, In those starts he averaged the same 5.5 innings thrown as CC, but he threw about three more pitches per game (105.38). Again, these were pretty much Burnett's eight worst outings of the year, and they were his most stressful because he was stretched beyond his normal comfort zone in terms of pitches need to record three outs at a time.
So in both cases, Sabathia and Burnett were truly "abused" eight times each this season. It's not a perfect analysis, but it shows how many times each pitcher was left in to throw a lot of pitches while not recording many outs, which is the kind of thing you want your starters to avoid. Thankfully, both guys have seen the number of pitches they've averaged per inning trend downward (slightly) this season, which you can see in this graph. Hopefully the Yanks don't pay the price for price for all the work early in the season at an inopportune time later.
Update (1:38pm): Of course Tim Kurkjian posts this today.
Photo Credit: Flcikr user a200eric