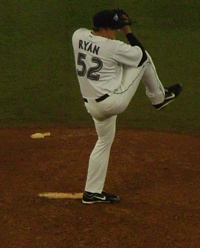 Yesterday the Toronto Blue Jays caught many baseball fans off-guard by releasing former closer B.J. Ryan. The move comes just 3.5 years into the five-year, $47 million deal he signed after the 2005 season. The Blue Jays will eat roughly $15 million, which illustrates just how far Ryan has fallen since undergoing Tommy John surgery in 2007.
During the 2005-2006 off-season, Ryan was one of the most highly-regarded free agents. He, Kyle Farnsworth, and Billy Wagner represented the top of the pack. The Yankees, who were about to lose setup man Tom Gordon, were heavy into the relief market. While Wagner was right out — he was too perfect a fit for the Mets at the time — the Yanks thought they had a shot with Ryan.
A 6'6″ lefty from Louisiana, Ryan was poised to cash in. The Orioles moved him into the closer role at the end of 2004, and in 2005 it was his alone. He took advantage, pitching to a 2.43 ERA and amassing 36 saves (on the 74-win Orioles) in 70.1 innings. In terms of hits, walks, home runs, and strikeouts, it was a mirror of his 2004 campaign. Now that he'd established his place as an elite closer, demand for his services was high.
Perhaps as a ploy to up the bidding for his services, Ryan "expressed interest" in playing for New York. Keep the Yankees in the running and you can pump up your value for another team. It was unclear at the time whether Ryan's interest was sincere, but the Yankees weren't making any other moves until his situation was settled. As a left-hander and a viable replacement for the departing Tom Gordon, he was clearly the Yanks' top target.
In late November, the fantasy came to an end. Ryan had signed his five-year deal with the Blue Jays. The Yankees, still in need of a setup man, turned to Kyle Farnsworth after Billy Wagner signed with the Mets and Tom Gordon headed to Philly. While it seemed like a good idea at the time, the Yankees were wise to stay away.
Then again, even at the time there were a few reasons for the Yankees to pursue other paths. Ben Shpigel, in the above-linked Times article, reminds us of a previous incident of signing a closer to set up:
Cashman was burned once before on this route, in 2001 when he signed Steve Karsay to a four-year, $22.25 million contract to be Rivera's setup man. Karsay battled injuries and inconsistency and spent only one healthy season with the Yankees.
In the end, Ryan had only one healthy season with the Jays. It's easy to say that Ryan might not have suffered the torn UCL which sidelined him for a year had he signed with the Yankees, but many thought surgery was inevitable. As Keith Law said in a chat: "Ryan was destined to blow out his elbow." Will Carroll heard the same thing: "Then again, a pitcher with Ryan's mechanics, and one that several scouts have told me was rushed through the minors to get as much value out of his arm as possible before it blew up, always represents a risk." So there were definitely indicators beforehand.
(Yet, upon signing Ryan, Jays GM J.P. Ricciardi said: "He stands among the few pitchers in baseball worthy of a five-year contract." Yeah, not so much, J.P.)
Finally, there was a rumor that Ryan doesn't want to deal with the stress of playing in New York. This originally appeared in Newsday, but they've since taken down the article. I know it existed, though, because I linked to it from my old blog. Yes, I said you have to be a gamer in New York. How novice of me.
One can only imagine what life would have been had Ryan signed with the Yankees. While Farnsworth was busy blowing games and racking up a 4.36 ERA, Ryan was decimating opponents, pitching to a 1.37 ERA and holding a 0.86 WHIP. Unfortunately, after that it's tough to tell. Would the Yankees have allowed Ryan to rush back from Tommy John surgery? He pitched his last game in 2007 on April 14, and returned to the majors on April 13, 2008. Rushing back didn't seem to affect him: he didn't allow a run until May 18 and pitched generally well all year (though I'll always remember Giambi's walk-off to the upper deck off him).
Ryan entered this season as the Jays closer, but quickly lost the job after going blowing two games and amassing a 11.12 ERA in six appearances. He then hit the DL with a sore trapezius, which manager Cito Gaston thought could be the reason for his lost velocity. That might have been the case, but Ryan still struggled after returning. In 15 innings over 19 games he's allowed eight runs, walking 12 to just nine strikeouts. The three runs he gave up in a losing effort to the Yanks was apparently the last straw.
At the time, it was easy to fall in love with the prospect of Ryan setting up for Mo. He was the best option available who had a chance of coming to New York, and the allure of adding a power lefty setup man was there. It appears, though, that even at the time there was plenty working against Ryan. Much of it came to fruition, culminating with his release yesterday. He'll catch on somewhere, probably on a minor league deal so he can work out his problems in games that don't count (or he could just sign with the Nationals). All we as Yanks fans can do is wonder what could have been.