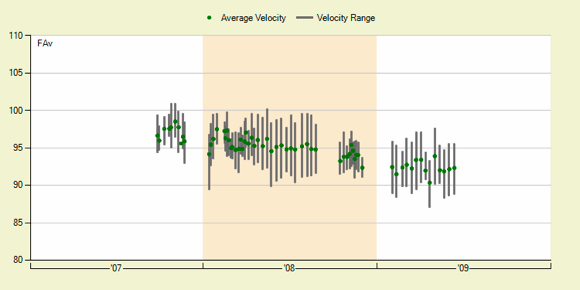 The Pitch F/X chart of Joba's fastball velocity over time. (Click to enlarge in a new window)
As Joba Chamberlain skyrocketed his way through the Yankee organization as a starter, the book on him was velocity. During his 2006 appearance in the Hawaiian leagues, Joba was, according to Baseball America's 2007 prospect list, sitting at 94-97 with his fastball.
The following year, John Manuel had even more glowing praise to offer the Yanks' youngster. "He reached 100 mph with his fastball as a reliever," Manuel wrote as he anointed Joba as the Yanks' top prospect in 2008, "and more impressively can sit at 96-97 mph when he starts."
Last season, as the Yanks transitioned Joba from Major League reliever to a Major League starter, we saw the velocity and the stuff with our own eyes. Pitching out of the rotation from June until August 4, Joba lived in the upper 90s. His fastball would range from around 94 mph to 100, occasionally dipping lower but not by much. His average was always at 95 or above.
As we all know, on August 4, disaster struck. Joba had to leave a start in Texas — the same mound upon which Phil Hughes ruptured his hamstring in 2007 — with a sore shoulder. He would miss much of August and would return to the bullpen in September. Outside of one or two appearances, his velocity in September was far lower than it had been as a starter in 2008 or as a reliever in 2007 and 2008. He was sitting in the low 90s with peaks at around 97 and an average of around 92. On the season, his final fastball average was 95.2.
This year has seen Joba pick up where he left off in September. Early on in the season, I raised an eyebrow at Joba's velocity but chalked it up to April. Power pitchers can take a few starts to warm up, and as April turned to May, Joba's fastball creeped up past those 95- and 96-mph marks. And then it didn't.
Two back-to-back starts at the end of May and beginning of June highlighted the velocity discrepancies. Against the Rangers in May, Joba's fastball averaged just over 90 mph, and he peaked around 93. Against the Indians five days later, he had the best fastball of the year, averaging just under 95 and peaking at just over 97. He hasn't really reached that level yet.
Last night, as the game wore on, Michael Kay, Kenny Singleton and Paul O'Neill noted that Joba's velocity just wasn't there. While Joba dialed it up to 95.3 at one point, the velocity histogram from Pitch F/X shows that he was sitting mostly below 91. On the night, his average velocity was again at 92 mph.
At this point, I don't know what to make of this, and I don't know why Joba has seemingly lost three miles per hour on his fastball following a shoulder injury last August. If he were hurt, the Yanks wouldn't be sending him out there every five days, and the team has to be aware of this dip in velocity as well.
For now, it's not hurting the Yanks. They're 10-5 in games Joba starts, and while he's not giving them distance, he's still striking out better than eight men per nine innings pitched. It's worth noting too that his breaking pitches haven't seen a concurrent drop in velocity either. In fact, his curveball is a bit faster this year than it was last year. That's a different topic altogether but one that could explain Joba's problems putting hitters away.
Furthermore, moving Joba to the bullpen simply isn't the answer. If his velocity is lower now as a starter than it was last year also as a starter, it is illogical to assume that he would magically rediscover six or eight miles per hour as a reliever.
As I said, I have no answers. I don't even know if we should worry about it, per se. It's something to watch as the season drags on, and if, by the end of the year, the velocity hasn't returned, then we can start to wonder about the long-term implications of Joba Chamberlain's Amazing Disappearing Fastball.