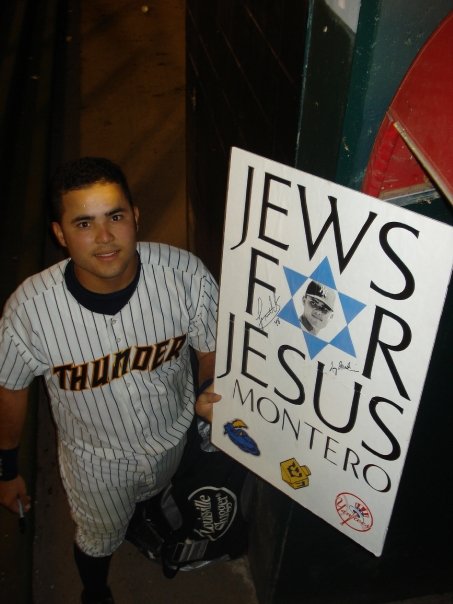 That gem of a sign comes from reader Dave Soberman, who was raising hell with his buddies at Saturday's Double-A Trenton game. Here's the email he sent us, which tells the story. Here's a few more pics: Dave with the sign, the sign at field level, the sign with Bolt, Montero signing said sign, and Dave heckling poor Jorge Jimenez. How awesome is that?
Meanwhile, Baseball America's John Manuel called Montero an untouchable prospect.
Triple-A Scranton was rained out, and Chad Jennings says they're not going to even going to bother to make it up.
Double-A Trenton (9-4 win over New Hampshire)
Austin Krum, Jesus Montero & Marcos Vechionacci: all 2 for 5 – Krum tripled, drew a walk, scored a trio of runs & K'ed … Montero doubled, drove in two & K'ed … Vech doubled, drove in a run & scored another
Reegie Corona: 1 for 2, 1 R, 2 BB
Eduardo Nunez: 1 for 5, 1 R, 2 RBI, 2 K
Noah Hall & richie Robnett: both 0 for 5 – Hall scored a run … Robnett K'ed thrice
Chris Malec: 2 for 3, 1 R, 1 RBI, 1 BB – 14 for his last 38 (.368)
Edwar Gonzalez: 2 for 4, 1 BB, 1 K
Ryan Pope: 8 IP, 3 H, 0 R, 0 ER, 1 BB, 7 K, 7-9 GB/FB – picked a runner off first
Humberto Sanchez: 1 IP, 3 H, 4 R, 4 ER, 1 BB, 1 K, 1-1 GB/FB – allowed two jacks
High-A Tampa (2-1 loss to fort Myers)
Damon Sublett & Brandon Laird: both 1 for 4 – Sublett hit a solo jack … Laird K'ed
Kevin Smith: 2 for 4, 1 K
Everyone Else: combined 0 for 18, 4 BB, 4 K, 1 E – David Adams drew a pair of walks
Lance Pendleton: 6 IP, 5 H, 2 R, 1 ER, 2 BB, 7 K, 3-6 GB/FB
Brad Rulon: 3 IP, 1 H, 0 R, 0 ER, 1 BB, 3 K, 2-4 GB/FB
Low-A Charleston (8-2 win over Greensbor0)
Jose Pirela, Tommy Baldridge & Neall French: all 1 for 5 – Pirela drew a walk … French drove in two & K'ed
Abe Almonte & Taylor Grote: both 2 for 5 – Almonte tripled, scored a run & scored a pair of runs … Grote scored a run, drove one in & K'ed
Corban Joseph, Addison Maruszak & Chase Weems: all 2 for 4 – CoJo drew a walk, drove in two runs & scored two others … Maruszak drew a walk, scored a run, plated two & committed a fielding error … Weems drew a walk & scored a run
Melky Mesa: 1 for 3, 1 R, 1 HR, 1 RBI, 2 BB – first homer since July 5th
Cory Arbiso: 8 IP, 0 H, 0 R, 0 ER, 2 BB, 4 K, 13-7 GB/FB – well then … golf clap
Charles Nolte: 1 IP, 1 H, 2 R, 2 ER, 1 BB, 0 K, 2 WP, 1-2 GB/FB
Short Season Staten Island
Game 1 (3-0 loss to Jamestown in 7 innings) makeup of yesterday's rain out … and there goes the ten game winning streak
Zoilo Almonte & Kyle Higashioka: both 1 for 3 – Higashioka committed a throwing error
Francisco Santana: 1 for 2, 1 K – had been 0 for his last 9
Everyone Else: combined 0 for 15, 1 BB, 3 K, 1 E
Arodys Vizcaino: 5 IP, 4 H, 1 R, 0 ER, 0 BB, 9 K, 3-3 GB/FB – leads the league with 50 K, eleven ahead of the second place guy
Gavin Brooks: 2 IP, 2 H, 2 R, 1 ER, 2 BB, 1 K, 3-2 GB/FB, 1 E (pickoff)
Game 2 (6-3 win over Jamestown in 7 innings)
Francisco Santana & RJ Baker: both 1 for 3 – Baker hit a grand slam & drove in another run as well
Hector Rabago, Neil Medchill & Justin Milo: all 0 for 2, 1 BB – Rabago was caught stealing … Medchill swiped a bag … Milo scored a run & K'ed
Luke Murton: 1 for 2, 2 R, 1 BB, 1 E (fielding)
Kelvin Castro: 2 for 3, 2 R, 2 2B, 1 RBI, 1 E (fielding)
Adam Warren: 5 IP, 4 H, 0 R, 0 ER, 0 BB, 4 K, 6-3 GB/FB – picked a runner of second … 10 hits & 2 walks allowed in his last 20 IP
Mike Solbach: 1.1 IP, 1 H, 3 R, 1 ER, 2 BB, 3 K, 1 wWP, 1 HB, 0-1 GB/FB
Griffin Bailey: 0.2 IP, 0 H, 0 R, 0 ER, 1 BB, 1 K, 0-1 GB/FB
Rookie GCL Yanks (6-2 loss to GCL Phillies)
Eduardo Sosa, Jose Toussen & Yunior Tabares: all 1 for 4 – Sosa scored a run … Toussen missed a catch for an error … Tabares K'ed & committed a fielding error
Kevin Mahoney: 0 for 4, 1 RBI, 2 K
Kelvin DeLeon & Jose Mojica: both 1 for 3 – DeLeon doubled & threw a runner out at second from RF … Mojica drove in a run & K'ed
Ramon Flores: 0 for 3, 1 K, 1 SB
Nik Turley: 4 IP, 5 H, 3 R, 3 ER, 5 BB, 1 K, 1 HB, 1 WP, 4-6 GB/FB – where'd the control go?
Dickie Marquez: 2 IP, zeroes, 3 K, 2-1 GB/FB
Shane Greene: 2.2 IP, 5 H, 3 R, 2 ER, 0 BB, 2 K, 3-3 GB/FB
Sam Elam: 0.1 IP, zeroes, 1 K – moderation is key