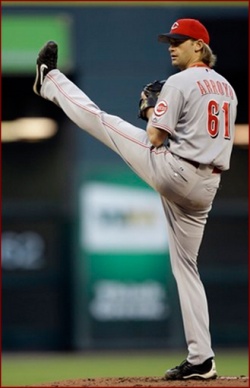 It all started yesterday afternoon. AOL FanHouse's Jeff Fletcher noted that the Reds were "close to doing something," meaning the completion of a trade. The likely candidates were Bronson Arroyo, Aaron Harang, and Francisco Cordero. Each makes quite a large sum for the rest of this year and next, and with the Reds out of contention it would make sense for them to get out from under at least one of those contracts. Any time we hear that something is close, ears perk up. It didn't take long for Fletcher to find out which deal the Reds were "close" to.
About two hours after his original report, Fletcher wrote the the Reds and Yankees were working on a deal for Bronson Arroyo. This sent a tremor through the Yankees fanbase. Why in the hell would they want Bronson Arroyo? He's pitched progressively worse every year since the Red Sox traded him to the Reds, and he's owed a ridiculous amount of money for the remainder of this year and next. Considering the monetary and potential player costs of acquiring Arroyo, an easy case could be made that the Yankees would be better off standing pat.
A 1995 third-round pick of the Pittsburgh Pirates, Arroyo struggled in his first few seasons, allowing way too many hits while walking too many batters for his strikeout rate. In February of 2003, after stints over the previous three seasons, the Pirates placed Arroyo on waivers. The Red Sox picked him up. He wouldn't join the big league club full-time until 2004, but when he arrived he did not disappoint, posting a 3:1 K/BB ratio over 178.2 innings.
The next year wasn't so kind to Arroyo. He pitched 205.1 innings for the Sox, but his strikeout rate plummeted from 7.2 per nine in 2004 to 4.4 per nine in 2005. This helped cause a half-run increase in his ERA. Still, the Sox apparently thought he was still worth holding onto, signing him to a three year, $11.25 million contract in January 2006. Little did Arroyo know that the contract would be his ticket out the door.
In March 2006, the Sox swapped Arroyo and $1.5 million for Wily Mo Pena. In essence, Arroyo had agreed to a team-friendly deal, only to have it used as trade bait. Whether it was the effect of pitching in the NL, the desire to prove the Red Sox wrong, or just sheer luck, Arroyo pitched insanely well in 2006, posting a 3.29 ERA over 240.2 innings, bumping his strikeout rate back up to around seven per nine, and improving his K/BB ratio to 2.88:1, up from 1.85:1 in 2005. The Reds thought they had found a gem, while Wily Mo languished with the Sox, and would eventually be traded in August 2007.
Apparently not content to ride out the remainder of Arroyo's team-friendly deal, the Reds signed him to a two-year, $25 million extension in February of 2007. The move was perplexing at the time. Why would the Reds, with Arroyo under contract for two more seasons at an eminently reasonable rate, sign him for two additional seasons, plus an expensive club option, with a relatively expensive buyout, for 2011? His 2007 performance would add to those questions.
In his second year in Cincinnati, Arroyo made one fewer start than in his first, but pitched 30 fewer innings. His WHIP rose from 1.19 to 1.40. One reason for his decline is the rise in his number of hits per nine innings — almost 10 in 2007, compared to 8.3 in 2006. His ERA rose yet again in 2008, to 4.77, below league average. Again he made 34 starts, but pitched 10 fewer innings than in 2007. His WHIP took another jump to 1.435. All this before the contract extension kicked in.
This is the first year of the extension, and Arroyo has not earned his $9.5 million to this point. His ERA sits at 5.21, the worst it's been since 2001, and which also places him as the league leader in earned runs allowed. His WHIP has climbed again to 1.472. Worst of all, his walk rate is near 3.5 per nine, and his strikeout rate is just 5.3 per nine, down from 7.3 per nine last season. He's essentially gotten worse with each passing year on the Reds.
Arroyo has posted a few gems this year, including a July 10 complete game shutout of the Mets. He followed that up with seven innings of shutout ball against the Brewers. However, in his last start against the Dodgers he posted another clunker, five runs over 5.1 innings, including four walks. It's just another start in Bronson Arroyo's horribly inconsistent 2009 season.
With all this in mind, it's difficult, if not impossible, to understand why the Yankees would want to acquire Arroyo. He's pitched well in the past, but he's certainly not the pitcher he claimed to be in 2006. His contract is among the worst in the game, and he's still owed $13 million next season, considering his buyout. Bad pitcher + bad contract = bad acquisition. It's as simple as that. So why are the Yankees connected with this guy?
Apparently, the rumor was just that. As PeteAbe noted, the Yanks shot it down. Jon Heyman got a quote saying that a trade is "not realistic at this point." Even Fletcher, whose source said that the deal "will get done," subsequently removed the line from his post. All seems to be right again for the Yankees.
There are still three more days until the 4 p.m. trade deadline on Friday, and the Yanks could certainly make a move for a pitcher before then. As we noted yesterday, the Yanks might not be able to acquire a significant target after the deadline, because the Sox are in second place and could block a potential move. Both teams would benefit with an upgrade at the backs of their rotations. Despite his overtures, expect Cashman to treat this deadline with a sense of urgency. If there is a deal to be made, expect him to pursue it. We just hope it's not for Bronson Arroyo.