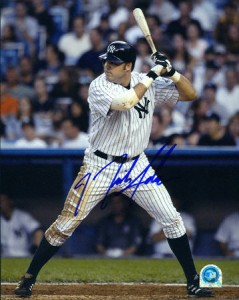 Yesterday we had a little fun by looking at some of the best offensive seasons put up by a player with a sub-.300 OBP since 2000, so now it's time to turn the tables and look at the "worst" offensive seasons by a player who had a .400+ on-base percentage. Remember that when you say someone had a bad season with a .400 OBP that it's relative, because anytime a player gets on base 40% or more of the time, they're damn productive.
We're using the same criteria as yesterday: 400 plate appearances minimum from 2000-2008, with wRC used to determine who was the least productive player. Is it the perfect methodology? No, but for what we're doing it's fine. I'm not trying to prove anything, just having a little fun. There have been 169 instances by 70 different players when someone has put up at least a .400 OBP in at least that many plate appearances this millenium. As you can imagine, we're talking about the best of the best here. Bonds, Pujols, A-Rod, Manny, Chipper, guys like that make up the majority of the list. There are a couple of one and done guys like Matt Lawton, John VanderWal and JT Snow mixed in as well. You can see the full list sorted by wRC by clicking here.
Here's the five "worst" seasons by a player who managed to make outs no more than 60% of the time.
Player: Mitch Meluskey, Astros, 2000
Stats: .300-.401-.487, 21 2B, 14 HR, 69 RBI, 1 SB, 66.9 wRC
Catchers aren't expected to produce much offensively, but when one has the kind of season Melusky had in 2000, it's reason to get excited. When the player has that season at age 26, it's reason to get really excited. Unfortunately Meluskey's bat wasn't the only thing that did the talking that year, because he was kind of a dick and had a few run-ins with vets Craig Biggio and Jeff Bagwell (he also punched outfielder Matt Mieske in the face during a June altercation). He was traded after the season to Detroit in a six player swap that brought Brad Ausmus back to Houston, and managed to get into just 20 more big league games in his career.
Player: Edgar Martinez, Mariners, 2002
Stats: .277-.403-.485, 23 2B, 15 HR, 59 RBI, 1 SB, 67.5 wRC
Edgar Martinez was an absolute monster in his prime, posting at least a .425 wOBA from 1995-2000, and it took a severe hamstring injury in 2002 to finally slow him down.  His offensive output was still pretty amazing despite the injury, and this "bad" .403 OBP season for Edgar is a career year for most. Fun Fact: Edgar's 147 career OPS+ is the exact same as Alex Rodriguez's. He was some kind of hitter.
Player: Nick Johnson, Yankees, 2003
Stats: .284-.422-.472, 19 2B, 14 HR, 47 RBI, 5 SB, 72.0 wRC
Nicky J's second season in the big leagues was also one of his most productive, but he was expendable with Jason Giambi in town. At 24-yrs old he walked more than he struck out (57-70 K/BB) while playing with the pressure of being a high profile rookie on the Yankees, and looked like a budding superstar when he flashed the leather. Johnson was shipped off in the Javy Vazquez trade after the season (hey, look at that, someone in yesterday's post was also traded for Homerun Javy … small world), and as we all know he's struggled with injuries since. When he's healthy, the dude can rake.
Player: Melvin Mora, Orioles, 2003
Stats: .317-.418-.503, 17 2B, 15 HR, 48 RBI, 6 SB, 76.4 wRC
It's funny, because if you look at Mora's career, there are two seasons that stick out like sore thumbs: 2002 & 2003. Discounting those two seasons, his career OBP is .336. Mora's had himself a nice long career and he's made himself a ton of money, but it's almost like he gave the whole plate discipline thing a try and decided it wasn't for him. Weird.
Player: Austin Kearns, Reds, 2002
Stats: .315-.407-.500, 24 2B, 13 HR, 56 RBI, 6 SB, 76.6 wRC
A major prospect viewed as a key ingredient in the future of the Reds organization, Kearns had a monster rookie season as a 22-yr old and looked like a budding superstar (used that one twice in the same post). Alas, it remains the best season of his career, as he's since bottomed out with the Nationals (.210-.317-.316 over the last season and a half). He's still just 29, so maybe there's still hope he can turn it around.
* * *
As you can see from this graph, there are a few players who were more productive with a sub.-300 OBP than some players with a .400+ OBP. Well, based on wRC anyway. Kinda crazy, but weird statistical quirks like this happen all the time. Take pitches kids, you don't have swing at everything.
Photo Credit: CollectSports.com