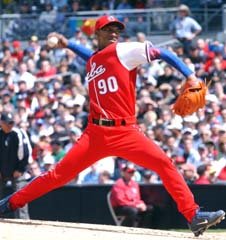 Late yesterday evening we got word from ESPN's Jorge Arangure Jr. that Cuban defectors RHP Yadel Marti (pictured), OF Yasser Gomez, and RHP Juan Yasser had been declared free agents and are now free to sign with any team. (All three players had defected late last year, so that gives you somewhat of a reference for how long it should take Aroldis Chapman to become a free agent.) The White Sox are at the forefront of the Cuban market these days, but the Yankees are established players with an strongtrack record. They signed Orlando Hernandez back in the day and brought him almost immediately to the big leagues, ditto Jose Contreras. Lesser players like Juan Miranda and Amaury Sanit are just a phone call away from the bigs in Triple-A. And as always, money talks.
Of the three, Marti is the most appealing to the Yanks right now because he's a veteran guy and essentially ready to contribute to the big league club according to Arangure, plus he fits an immediate need. Gomez could be interesting for next year's outfield, but there's no spot for him on the team right now. Their agent, famed Cuban representative Jaime Torres, says that three NL and two AL teams have expressed interest in signing either Gomez and/or Marti for the stretch run this year. With Sergio Mitre presently occupying the fifth spot and Joba Chamberlain eventually having to be shut down due to workload limitations, the Yankees are in need of another starting pitcher. But we know that already.
Going after Marti wouldn't require any finagling of the waiver system, no hoping that a competing team doesn't block a player. All it takes is money and a sell job, something that shouldn't be too difficult considering the team's track record with Cubans and the fact that well, they are the Yankees. The 30-yr old Marti is no stranger to the big stage, having competed in top international competitions since he was 19-yrs old. He was Cuba's best pitcher in the 2006 WBC, allowing just six hits and no runs in 12.2 IP with 11 strikeouts. B-Ref's bullpen says that Marti's fastball sits around 87-90, relying instead on his sinker, slider and curveball, as well as hitting his spots. This nearly two year old Baseball America article says he has "a pair of quality secondary pitches—a sharp-breaking curveball and a diving changeup," and also mentions that he has "a pause in his delivery reminiscent of many Japanese pitchers." You can see that right here.

That's about all I can tell you about his stuff. I wish I had more, but that's life. Certainly you can expect the Yankees to be a bit more thorough in their research before deciding to pursue Marti. Timeframe will also be an issue, because he'd have to be on the roster by August 31st to be eligible for the postseason roster. I mean, I guess they could always find some loophole to get him on the roster like the Angels did with K-Rod in 2002, but that's not something that's easy to do (the Angels "lucked out" when Aaron Sele blew out his shoulder late in the season). Marti would have to get in game shape before the end of this month, ideally making a minor league start or three before coming up.
By no means am I touting Marti as a rotation savior. I'm just presenting him as an alternative to staking out the waiver wire for a potential fifth starter that would cost money and (most likely) something in terms in players, even if it's low level filler types. Assuming the money and contract details work out, and the team likes what they see out of Marti in workouts, then maybe there's a match. It's a stretch, I'll certainly admit it, but the Yanks wouldn't be doing their job if they didn't at least look into it.
Photo Credit: Ricardo Lopez, Granma