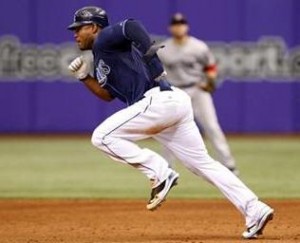 The Yankees have traditionally been a power hitting, high on-base percentage kind of team, going all the way back to the days of Ruth and Gehrig. They would dig in, make pitchers work, get on base somehow, then sit back and watch as their sluggers peppered the bleachers with big flies. This year's club is no different, but this weekend they have a chance to exploit one of Boston's biggest weaknesses: allowing stolen bases.
The Red Sox this year have been just terrible when it comes to allowing steals. I mean horrifically bad. On average, Major League clubs have stolen bases successfully at a 72.7% clip, but Boston has allowed runners to be successful on their steal attempts a ridiculous 85.2% of the time. All Star Catcher Jason Varitek has been the main culprit, allowing 69 steals in 83 attempts, or 85.6%. In addition to leaving his mask on during a fight, he's also hitting just .212-.356-.349 since May 30th, and the team's 3-4-5 starters have a combined 5.72 ERA. What exactly does he do well? Forgive me as I digress.
As for the rest of Boston's catchers, Victor Martinez has only played one game behind the plate for them and no one attempted a steal. With the Indians though, baserunners swiped bags at a 84.8% success rate. George Kottaras was the best of the backstop bunch, allowing steals at just a 83.8% clip, but he's on the phantom DL because the team has no spot for him and he's out of options and they don't want to lose him to waivers with a sore back and won't play in the series.
As a team, the Yankees have stolen 71 bases, a modest amount good for 12th most in baseball and 6th most in AL. Their 78.0% success rate is fourth best in the game behind the Rangers (83%), Rays (80.2%), and Phillies (79.8%). Obviously most of the stolen base credit goes to the presently injured Brett Gardner, who's stolen 20 bags with an 80% success rate. The Cap'n is second with 19 steals, getting the job done 82.6% of the time. Johnny Damon has picked his spots to go a perfect 8-for-8 in stolen base attempts. New addition Jerry Hairston Jr. hasn't attempted a steal in pinstripes yet, but he had seven steals in ten attempts in Cincinnati.
The Yankees will do their usual shtick of drawing walks and working counts and hitting homers this series, but the opportunity is there for them to take an extra base almost at will. Given the way the team has hit with runners in scoring position this year, maybe that's not such a good thing.
Photo Credit: Mike Carlson, AP