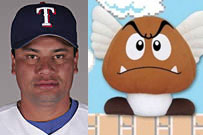 If you ask Brian Cashman, on the record, if he thinks the team needs another starting pitcher, he'll probably say no. He and Joe Girardi have stood at Sergio Mitre's back after each of his starts this season, even the last three. He's the fifth starter going forward, they say, and he won't lose that spot just because of a few bad outings. No one's really buying it. They just brought in Chad Gaudin, and are thinking about starting him on Sunday. It suggests that the Yankees might still be on the lookout for someone to fill that fifth spot, allowing Gaudin to pitch out of the pen and give the big starters some rest in September (if they can put some more distance between themselves and the Sox).
August is scrap heap time in baseball, a period when teams place most if not all of their players on waivers to gauge interest around the league. Players of significance usually don't change teams at this time of year, but it does happen. General managers, for the most part, are searching out pieces to fill in the puzzle, rather than someone to anchor the team. That's exactly what the Yankees should be doing right now. Instead of remaining content with Sergio Mitre, they should be looking around to see if there are any viable alternatives.
One name that immediately comes to mind is Vicente Padilla, recently designated for assignment by the Texas Rangers. That would seem to raise a red flag — after all, the Rangers don't have the best pitching, right? It's not the best, but this year they rank fifth in the AL in starter's ERA, and fourth in the AL in overall ERA. This isn't like picking up a starter the Indians or Orioles released. So let's take a little look at Vicente.
A 1998 amateur free agent signing by the Arizona Diamondbacks, Padilla landed in Philadelphia in the Curt Schilling trade. There he posted two very good seasons, in 2002 and 2003, before missing some time in 2004 and 2005. The Phillies dished him to Texas for a song, and after something of a bounceback season the Rangers signed him to a three-year, $33.75 million deal before the 2007 season.
For the past three years Padilla has been something of a disappointment. His ERA and WHIP have been far above acceptable levels for a pitcher making that type of money. His strikeout rate has been up and down, and his walks have been above the level he established in Philly. There's been little to like about Padilla, especially his propensity to hit batters, apparently unprompted.
So what would the Yankees see in this guy? For starters, his woes this year might be partly a product of his home ballpark. His ERA on the road is two full runs lower than at home. Get him out of Rangers Ballpark in Arlington, and perhaps you have a useful pitcher. Then again, his strikeouts are higher at home and his walks are lower, so there's no guarantee that he can find a home in a new ballpark. In addition, one of Padilla's few poor road starts this year came at Yankee Stadium.
Padilla also pitches well against righties, a .676 OPS vs. a .862 OPS against lefties. Since the league has more righties than lefties, that's not a bad thing. Then again, the Yankees have that quality in Gaudin, so Padilla could be redundant. So far, the case for him isn't looking too strong.
The case against him is far stronger. Padilla has never been a front line starter, and it's questionable whether he can hold down even the fifth spot in a rotation. The Rangers might have improved their staff this year, but even so they wouldn't jettison a useful pitcher just because. They let him go for a reason — just like they placed him on waivers in June for a reason. Mike Maddux is considered one of the best pitching coaches in the game, so if he can't reclaim Padilla, can any coach?
Strangely, even with all signs pointing to Padilla's ineffectiveness carrying over to a new club, a team might be willing to pay more than the minimum for Padilla by working out a trade with Texas. That should put the Yanks right out. Even if they sign him for the prorated league minimum, he could be ineffective and redundant. The Yanks could use a guy to help fill in the back end of the rotation, but if they're going to pick someone up it might as well be someone better than what they already have.