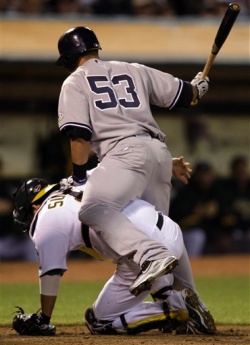 Last night we saw from the Yankees what we've seen from them, for the most part, since the All-Star Break: solid pitching and a hit barrage. They slipped for a couple of days, but over a 162-game season, what team won't? Seemingly unfazed by two straight losses, the Yanks came up with a big inning to complement CC Sabathia's mostly dominant start and took the second game of the series, 7-2.
After said two straight losses, the first inning was not a welcome sight. After Vin Mazzaro beaned A-Rod and issued a five-pitch walk to Hideki Matsui, the Yanks had the bases loaded with two outs. Jorge Posada worked a 2-2 count, but struck out on a ball way out of the zone. It was another opportunity wasted, the second such by Posada in two nights — Monday night he went down looking with runners on first and second with two outs.
Still, the Yanks had to feel good with their ace on the hill. Things looked great through the first two batters: a strike out and a pop out. But when CC threw behind Kurt Suzuki — and considering CC's command last night, it was pretty clearly in retaliation for the A-Rod beaning — the catcher responded like any hitters wants to, by homering. Same thing happened in the second, minus the purpose pitch. After striking out the first two batters of the inning, CC gave up a homer to Tommy Everidge. Of course, he then came back to strike out Ryan Sweeney to end the frame.
The A's wouldn't get anything off Sabathia the rest of the night. There was some trouble in the fourth when the A's put runners on second and third with one out, but CC kept them off the board. Scott Hairston probably could have scored on Mark Ellis's liner to Nick Swisher, but Swisher was charging, and a good throw would have nailed him. The actual throw was up the line, but unfortunately for Hairston human beings do not possess clairvoyant foresight.
After that point the A's managed just one more baserunner off Sabathia. For some reason, he threw Ryan Sweeney a belt high fastball around the middle of the plate. The slider had been working so well against Sweeney, especially when combined with fastballs out of the zone. Still, if that's the biggest complaint among his final four innings, well, then there's nothing to complain about at all. CC turned in a mighty fine start, just what the Yanks needed to stop this mini skid.
One final line on Sabathia. He threw 94 pitches, 66 for strikes, but four balls were intentional. So, in terms of him actually squaring off with a batter, he threw 90 pitches, 66 strikes. That's pretty insane.
On the offensive side, the Yanks chipped away. Down 1-0 in the second, Melky Cabrera doubled with two outs, and then scored when a Derek Jeter grounder scooted through Adam Kennedy's legs. In the third A-Rod led off with a single, took second on a wild pitch, advanced to third on a grounder to third, and scored on Jorge's ground rule double. Things were starting to look up after two games of general offensive futility.
Then, shades of Monday in the fourth. With the bases juiced and one out, Mark Teixeira stepped to the plate. Monday night it was Teixeira who walked on five pitches to load the bases with one out. Last night it was Damon. Monday night it was A-Rod who swung at the first pitch. Last night it was Teixeira. Same result: double play. It doesn't get more frustrating for that.
Thankfully, their luck changed in the sixth when Vin Mazzaro left the game due to a high pitch count. It was old school Yankees. They don't necessarily rack up the score against the starter, but they have good at bats and wear him down. Through five Mazzaro had thrown 103 pitches. The bullpen would have to pick him up, and it was apparent from the beginning that they would not.
It's too bad that Robinson Cano swung at the first pitch he saw from Jay Marshall, because he ended up being quite wild. He threw 13 pitches, just six for strikes, and four of those strikes were balls in play. Damon knocked him out with a run-scoring double, leaving him with a line of 0.1 IP, 3 H, 4 ER, 1 HBP. Santiago Casilla didn't help matters, walking Mark Teixeira on four pitches, and then the same to A-Rod, which scored a run.
The Yanks tacked on a couple more after that, all but sealing their victory. David Robertson made things a little interesting in the ninth, walking the first two batters on eight pitches. If only he'd done the same to Mark Ellis, we would have had a Harry Doyle moment. Instead he struck out the next two batters and got a fly out to end the game.
Rubber game tomorrow, Chad Gaudin against Brett Anderson. WIth Burnett and CC going eight innings on back to back nights, the pen is pretty well rested. They'll have a day off on Thursday before a series in Boston, so I'd expect to see Hughes, Bruney, and Aceves get an inning tomorrow, regardless of score. Thankfully it's the last 10:00 start for a few weeks.
Photo credit: Ben Margot/Associated Press