It feels like just yesterday, but it's already been five months since Juan Miranda started the season off with a bang. The Yankees dealt with their usual rash of injuries in the minors and more than their fair share of disappointments, but they also enjoyed some breakout seasons as well. The six stateside affiliates combined for a 381-309 record this season, making it at least the 18th consecutive season the affiliates have combined for an over .500 record.
Remember, this isn't a ranking of prospects. It's just a post intended to recognize those players in the minors who put together exceptional seasons, regardless of age, prospect status, etc. In order to keep things fresh, the player who won the MiL Player of the Year Award was ineligible to win the Hitter/Pitcher of the Year Award, like I've aways done it.
Because looking back in the past is always fun, here are my 2007 and 2008 awards posts. Unfortunately, my 2006 awards post has been lost in MVN purgatory. If you have any praise or complaints, you know where to stick them. The good stuff starts after the jump.
Minor League Player of the Year: Jesus Montero, C, A+/AA
The first two-time MiLPOY in the history of RAB, Montero won this same award last year but managed to somehow put together an even more impressive season in 2009. He started the season as a man among boys with High-A Tampa, hitting .356-.406-.583 in 48 games before being bumped up to Double-A. As a 19-yr old in the traditionally pitcher friendly Eastern League, Montero hit .317-.370-.539 in 44 games, earning a spot on the All Star Team. Overall, he had more multiple hit games (36) than no hits games (22) this season, and more multiple extra base hit games (8) than multiple strikeout games (6). The only thing the could stop the Venezuelan born backstop was a fluke finger injury that ended his season in early August, but Montero had this award wrapped up in June.
Honorable Mention: Shelley Duncan, OF, AAA/MLB; Manny Banuelos, LHP, A-
Minor League Pitcher of the Year: Manny Banuelos, LHP, A-
Banuelos started the year as the second youngest pitcher in the South Atlantic League by just 22 days, and he ended with the fifth best ERA (2.67) in the league among pitchers with at least 100 IP. Acquired in the same package deal that brought Al Aceves to the Yanks, Banuelos held opponents to just a .217 AVG against, and his polish and pitching aptitude is evident in his 106-28 K/BB ratio. Only twice all season did he allow more than three earned runs in an outing, and he held the opponent to two runs or less in 13 of his 19 starts. The lefty dazzled late in the year when he was moved to the bullpen to control his innings, allowing just three of the final 37 batters he faced to reach base, sitting down 20 via strike three. No pitcher in the system was as consistently excellent as Banuelos this year.
Honorable Mention: Zach McAllister, RHP, AA; David Phelps, RHP, A-/A+
Minor League Hitter of the Year: Shelley Duncan, OF, AAA/MLB
Shelley's been here before, winning this same award back in 2007. As good as he was two years ago, he was even better this year. Shelley started the year off by hitting .296-.377-.641 with 21 homers in his first 58 games, and ended it by crushing his own single season SWB franchise record with 30 homers. He led the International League with 99 RBI and a .270 IsoP, and  was named league MVP. Shelley was the guy in the middle of the lineup for the team with the third best record in all of Triple-A baseball.
Honorable Mention: Juan Miranda, 1B, AAA; Kevin Russo, 2B, AAA
Minor League Manager of the Year: Dave Miley, AAA
It's getting to the point that I'm just going to have to rename this award for Miley. This makes it three straight MiLMOY for Miley, who again endured having his roster disassembled seemingly by the day. He used 23 different starting pitchers (23!), 11 of whom made at least five starts on the year. He lost his 3-hole hitter to Japan, his best third baseman to the World Cup, and his ace to the big league team on several occasions, and yet Miley managed the team to their fourth straight division title (third as a Yanks' affiliate). The man is a machine.
Honorable Mention: Josh Paul, SS; Luis Sojo, A+
The Edwar Ramirez Award (Breakout Player of the Year): Manny Banuelos
Banuelos was an interesting prospect coming into the season; polished beyond his years and more command and control than raw stuff, but not exactly a guy you'd expect to dominate competition two or three years older than him. Even though he didn't get to pitch because of weather delays, Banuelos was the only player from Mexico selected to the 2009 Futures Game. The Yanks spend major bucks in the draft, but international players like Banuelos continue to highlight the farm system.
Honorable Mention: DJ Mitchell, RHP, A-/A+; Ivan Nova, RHP, AA/AAA

Best Pro Debut: Neil Medchill, OF, SS
A very good value in the 11th round of the '09 draft, Medchill set a new short season record for Yankees farmhands by clubbing 14 homers this year, eclipsing Ruben Rivera's old record of 13 from way back in 1993. Among players with at least 200 at-bats, Medchill led the NY-Penn League in slugging (.551) and OPS (.901), and his 14 jacks were six more than any other player.
Honorable Mention: DeAngelo Mack, OF, SS; JR Murphy, C/DH, Rk
Comeback Player of the Year: Shelley Duncan
This award has gone to a pitcher coming back from major arm injuries the last two years, and in a season with no obvious candidates, this year it goes to a position player with a similar ailment. Shelley missed more than a month with a shoulder injury last year, hitting a career low .219 in a career low 325 plate appearances, but rebounded to be named the best hitter in the system this season.
Honorable Mention: Damon Sublett, OF, A+
Bounceback Player of the Year (started slow, but rebounded): Brandon Laird, 1B/3B, A+
Last year's MiL Hitter of the Year, Laird started the year off very slowly, hitting .230-.279-.298 with just seven extra base hits in his first 43 games. It looked like he was in line for the Most Disappointing Player of the Year Award, but Laird rebounded to hit a studly .286-.348-.479 in his final 81 games. His OPS went up every month (.572-.578-.768-.865-.932, not counting five Sept. games), and he led the Florida State League with 75 RBI.
Honorable Mention: Abe Almonte, OF, A-; Jon Ortiz, RHP, A-/A+
Most Disappointing Player: JB Cox, RHP, AAA/AA
Sure, there were other players with greater expectations that fell flat, but Cox was this year's most disappointing player because when the going got tough, he went home. After twelve relief appearances with Triple-A Scranton that featured a 1.87 WHIP and a 5.02 FIP, Cox was demoted to Trenton and somehow got worse, posting a 2.54 WHIP and 8.51 FIP. He left the team and went home to Texas to think about his future after that, and is still MIA. Cox's stuff and command have never been the same since 2007 Tommy John surgery, and his once promising career may have been permanently derailed.
Dishonorable Mention: Andrew Brackman, RHP, A-; Dellin Betances, RHP, A+
Individual Level Awards (click for a larger view)



All-Minor League Teams (click for a larger view)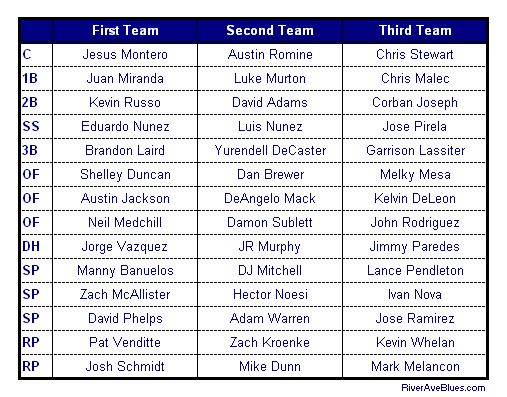 Lifetime Achievement Award
This year's recipient first joined the Yankees as an unheralded international free agent signing out of the Dominican way back in 2000, making him the longest tenured player in the team's farm system. He was a teammate of Robbie Cano and Chien-Ming Wang with Short Season Staten Island when all three were just starting their careers way back in 2002, yet amazingly he's still just 26 years old.
Once one of the better starting pitching prospects in the system, this player owned a lively 92-94 mph fastball with a knockout splitter in his heyday. When the Yanks chose to pursue Alex Rodriguez prior to the 2004, he was included in the five player pool Texas could choose from to complete the deal (they ultimately choose infielder Joaquin Arias). After missing the entire 2005 season and making just 14 appearances in 2005 due to injury, his days as a starting pitcher came to an end.
Our hero has been healthy and productive since 2006, when he climbed all the way from Low-A Charleston to Triple-A Scranton. In that time he has a 2.84 ERA and a 1.22 WHIP in close to 200 IP (196.1 to be exact), twice filling in as closer for Double-A Trenton. The 2009 Lifetime achievement award goes to … (drumroll) … Jose Valdez.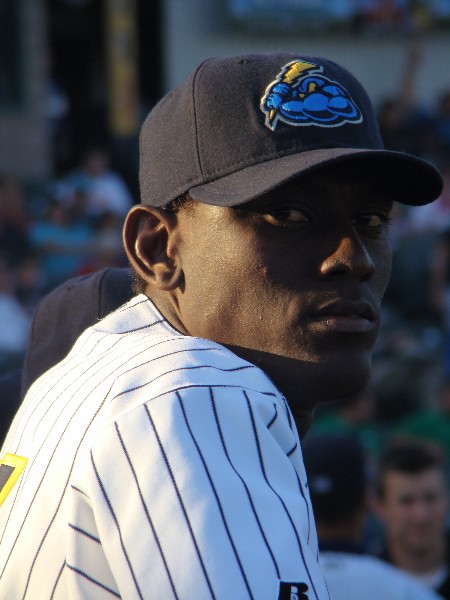 Photo via Mike Ashmore