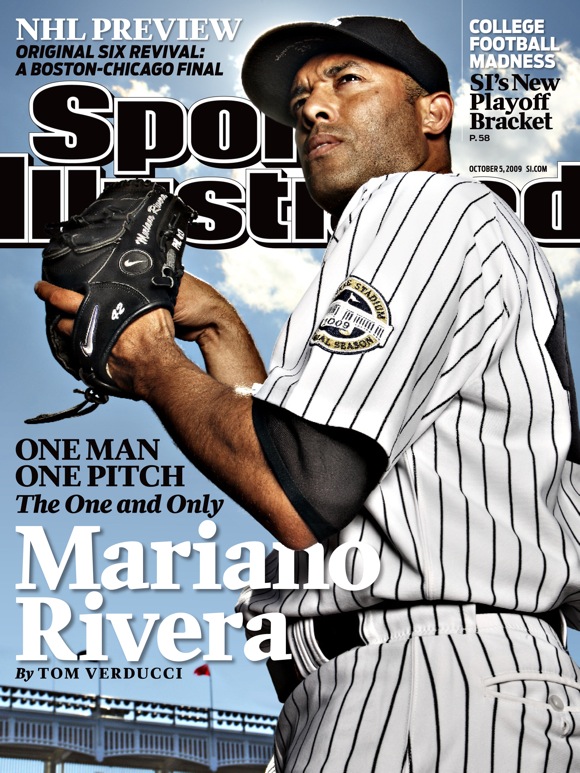 As part of a Tom Verducci package on Mariano Rivera and his Cutter of Doom, Number 42 finds himself atop Sports Illustrated this week. Here's what the press release from the sports weekly had to say:
This week's October 5, 2009, issue of Sports Illustrated, on newsstands Wednesday, features Yankees' closer Mariano Rivera with the billing One Man, One Pitch: The One and Only Mariano Rivera. As the gates swing open upon another MLB postseason, baseball will once again attempt to divine one of the game's great mysteries: how a man, closing fast on 40 and armed with but a single pitch, continues to dominate in the clutch like no other player, 13 years and counting.

SI senior baseball writer Tom Verducci reveals that Rivera's cutter—the defining pitch of his generation—was the result of a happy accident: "God touched Mariano Rivera one June afternoon in 1997, and Rivera shrugged. Just three months into his new role as the closer for a budding Yankees dynasty, Rivera was suddenly unable to throw his signature four-seam fastball straight, not even during his daily toss with pitcher Ramiro Mendoza. Every catch a struggle, Mendoza told Rivera to knock it off, to quit making the ball dip and dart. Rivera assured his friend that he wasn't doing it intentionally. He was gripping the ball the same way he always had, releasing it the same way he always had. The wicked movement just … happened…. Rivera didn't have an explanation, and though he says he 'didn't have any idea where the ball was going,' his results did not suffer. He got the save in that game, then in the next three. Still, for a month, he worked with [bullpen catcher Mike] Borzello and pitching coach Mel Stottlemyre to eliminate the cutting action. 'We were trying to make the pitch stay straighter, [as it had] in '95 and '96,' Rivera says, referring to his first two seasons in the big leagues, 'but it didn't work. Then I said, 'I'm tired of working at this. Let's let it happen.' And since that day we didn't try to straighten it out anymore.' He smiles. 'And the rest is history.' "

Rivera has become the best closer with the demeanor of a benevolent king; baseball royalty without the arrogance. As a result, he has engendered as much respect from opponents as he has from teammates. Says David Ortiz of the rival Red Sox: "I have respect for Mariano like I have for my father. Why? He's just different. If you talk to him at an All-Star Game, it's like talking to somebody who just got called up. To him, everybody else is good. I don't get it. To him everybody else is the best. It's unbelievable. And he is the greatest. You know what? Sometimes in those times when he struggles, like when I watch him on TV, I feel bad for him. I seriously do. Good people, you want to do well."
Those are some might big words of praise from David Ortiz.