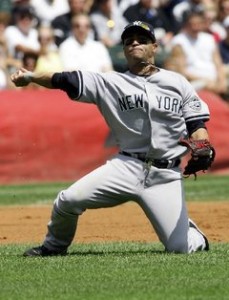 Even though the Yanks walked away from Anaheim with a much needed series win, they may have suffered a pretty significant loss when supersub Jerry Hairston Jr. left yesterday's game in the middle of his 7th inning at-bat after hearing "a pop" in his right wrist. Apparently Jerry has dealing with wrist issues for quite some time, initially injuring it when he dove for a ball while with the Reds. He'll hit the MRI tube later today, at which point we'll know the extent of his injury, but I can't remember the last time I heard a player said they heard something "pop" and it didn't turn out to be serious.
On the surface it might not seem like such a big deal, especially since Hairston's hit just .175-.306-.325 in the team's last 32 games, but he gave the Yankees two things: extreme versatility and a usable bat off the bench against lefthanders. We'll get back to the versatility thing in a second, but for now let's discuss the value of Hairston's bat off the bench.
You may think his offensive contributions are insignificant, and in the grand scheme of Yankee Universe they kinda are, but the guy has hit .252-.326-.439 off southpaws this season, by far the best any righty on the Yanks bench can offer. Melky Cabrera offers the next righty bat off the bench, going .253-.329-.407 off lefties, but chances are he'll be starting in center since Joe Girardi seems to like having Brett Gardner ready to go as a pinch runner late in games. Based on what we've seen out of Girardi the last two seasons, I think it's extremely unlikely he'd send Eric Hinske or even Gardner up to plate to hit against a lefty late in games, regardless of what the numbers say. So with Hairston potentially out for a while, the Yankees may have to do without a righthanded hitter on the bench in the playoffs.
(Sorry, but Shelley Duncan doesn't belong anywhere near a Major League playoff roster.)
Getting back to the versatility issue, it'll probably take two players to replace Hairston. Ramiro Pena is the no doubt about it backup infielder in Jerry's stead, but he's never played the outfield in the big leagues and got just 18 total chances in a handful of games in centerfield with Triple-A Scranton. There's just no way you can send him out there in the playoffs and expect him to get the job done. There's also the little matter of Pena hitting .284-.318-.363 as a big leaguer, just .091-.130-.091 against lefties (SSS warning). He's a more than acceptable backup infielder on the defensive side of the ball, but he offers almost nothing at the plate
As for replacing the outfield portion of Hairston's contributions, the leading candidate would be Fast Freddy Guzman. The Yanks are fortunate enough to have two approximately league average centerfielders on their roster, so Hairston didn't figure to get much playing time in the outfield anyway (he's played just 90 innings out there for the Bombers). There has already been some talk about Guzman making the postseason roster as a pinch runner, and a lengthy injury to Hairston should all but guarantee his spot. Surprisingly,  Guzman has a .900 OPS against lefties in his career, but the small sample size warning applies again. In reality, Guzman offers little value at the plate like Pena, with a career .541 OPS in the bigs and .704 in the minors.
We still don't know how badly Hairston's wrist is hurt, and while we all hope it's nothing a little rest and/or cortisone can't solve, the Yankees have to be prepared for the worst. They'll probably have to go into the postseason without a reliable righty bat on the bench to send up against lefthanders, but how often would they have pinch hit for someone in this lineup a playoff setting anyway? The loss of Hairston's flexibility is what really hurts.
Photo Credit: Rob Grabowski, US Presswire